This is a paid piece from The Breaks Coffee Roasting Co.
Simplified: The Breaks is testing out a new parklet concept in front of their East 12th Street coffee shop this summer, with the goal of creating a space for community and neighborhood connection.
Why it matters
Parklets are a way of repurposing often-unused street parking to create a little mini-park with seating, shade and even some green space.
They're found in many cities, from Chicago to San Francisco to Minneapolis to Des Moines.
The Breaks' location is right on the edge of downtown and close to other commonly used spots like the post office, grocery store and the multi-use trails. The parklet would give pedestrians another reason to walk through the neighborhood.
Tell me more
The Breaks' parklet is part of a pilot project with the city through the summer. It was approved unanimously by City Council on May 18.
"Having the parklet space will better connect us to the neighborhood," said Mary Campbell, who co-owns The Breaks with her husband, Corey Gerlach.
What is a parklet?
A parklet takes curbside parking and turns it into additional space for the community and businesses. That can mean extra seating, tables, plants, shade or other tiny park features.
The parklet at The Breaks will only take one parking spot, and it'll sit right in front of the East 12th Street business.
Campbell hopes to use repurposed pallets to make the parklet features, including furniture that can be used as seating or tables, depending on what's needed.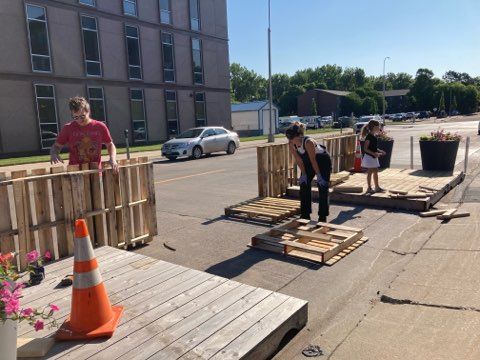 What are people saying?
"This is a really cheap, easy way to add vibrancy to downtown," said Joe Batcheller, president of DTSF, Inc.
"It really is that conduit that brings you into the heart of downtown and has that walkability," said Councilor Christine Erickson on the parklet location. Erickson co-sponsored the pilot project with Councilor Pat Starr.
"Of course it increases our visibility, but it also allows people here to interact with residents in the neighborhood, people walking by, people using the bike paths, Sunshine Foods, the post office and other local businesses in the area," Campbell said.
What happens next?
The parklet pilot runs through Oct. 31, so the goal is to get it in place as soon as possible.
Already, there are large planters – provided by DTSF, Inc. – offsetting the parklet space, as well as platforms providing the base of the parklet.