Simplified: The Sioux Falls City Council on Tuesday approved the latest Transit Development Plan, which outlines goals for the future of city busing – including a desire to see more people riding. Here's a look at the big takeaways.
Why it matters
The city has been studying public transit for the last year, looking at ways to both make busing more efficient and ensure the transit fund can stay in the black.
The new transit development plan recommends decreasing the number of fixed routes while also implementing a new "on-demand" system that'll be able to service more areas around town.
The plan also looks to eventually change the types of vehicles in the city's bus fleet. It mentions a goal to phasing in smaller vehicles for on-demand services, for example, as well as taking a proactive approach to adding zero-emissions vehicles.
"We will be testing, looking at the best available information and working with people to start that transition (to zero-emissions vehicles)," Transportation Planner Sam Trebilcock said.
What are the big ways busing will change?
The transit plan recommends dropping from 12 fixed routes to eight.
The new fixed routes combine some of the less frequently used routes, as well as extending to more areas of town.
It'll also add an "on-demand" model, where people can schedule a trip from one bus stop to another through an app.
Riders will also be able to track buses in real time, and they'll have more ways to buy bus tickets.
What will it cost?
The city expects it'll take $1.7 million in new funding to move to a hybrid transit system – i.e. the on-demand service and the fixed routes combined.  
The financial plan also calls for another $800,000 to keep up with cost increases due to inflation and decreased ridership.
Those costs don't include future capital improvements like replacing bus shelters, buying new buses and replacing the existing downtown transit office and garage facility.
Ten-year estimates show that with the hybrid plan, public transit can reverse the trend of losing money, whereas if everything stays the same, the fund will go negative in the next few years.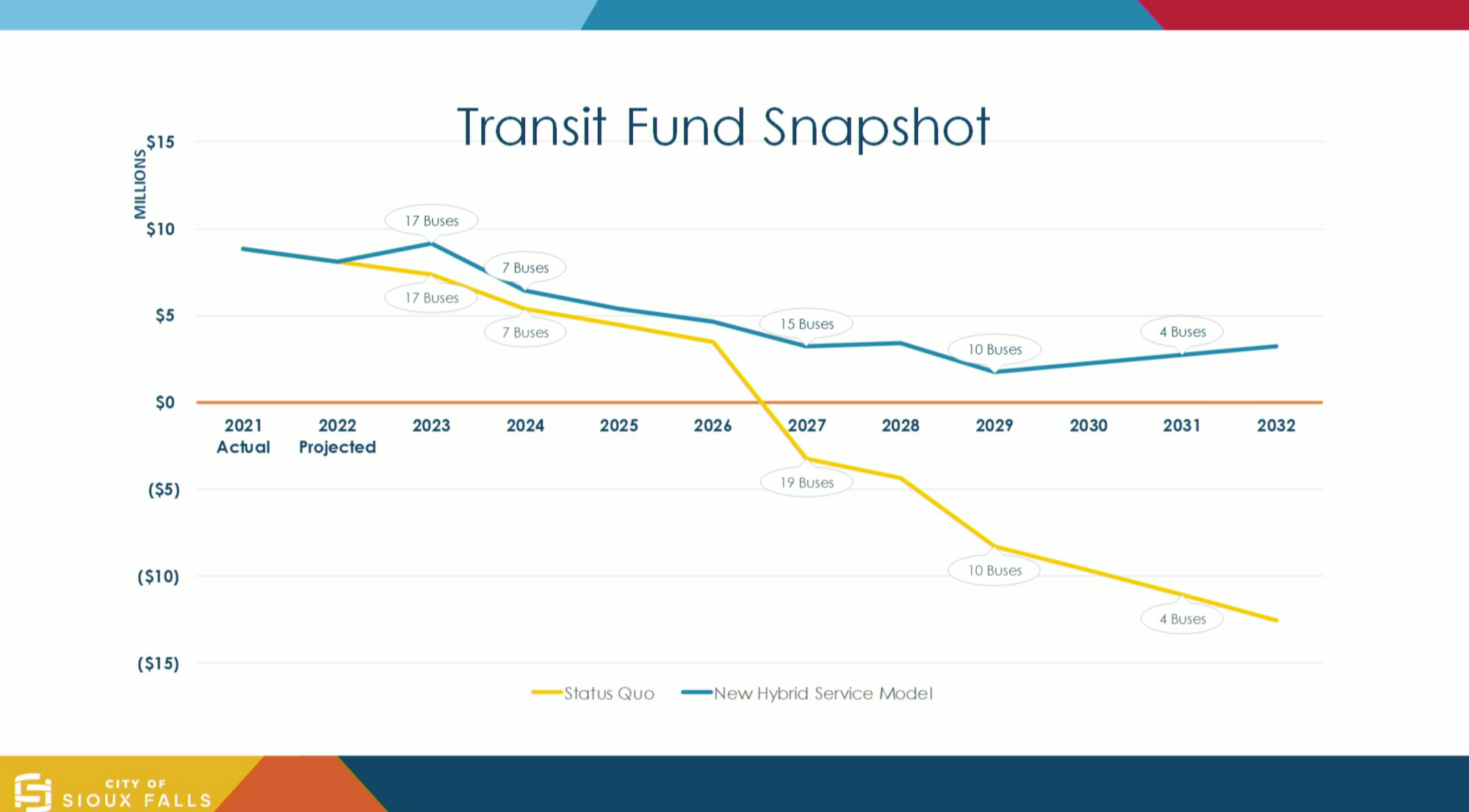 What did City Councilors have to say?
Councilor Greg Neitzert said the plan is a "baby step" in the right direction, but he expressed skepticism as to the approach.
"Are we trying to build ridership into choice riders? Or do we essentially want to be a service of last resort?" Neitzert said. "And at some point you almost have to pick a horse and ride it. We're kind of in this compromised position where we're trying to do both."
Councilors Alex Jensen and Rich Merkouris both said they wanted to make sure the city has a clearer sense of the metrics it'll use to indicate successes in the new plan.
Councilor Marshall Selberg said he hopes the steps taken in this plan reverse the trend of losing both riders and money in public transit.
Councilor Rich Merkouris challenged the council to set more specific goals for the bus system. He also said he's struggling with the goal of transitioning to zero emissions buses without knowing what that'll cost, and he suggested doing away with bus fares entirely.
Councilor Pat Starr likened the transit plan to "moving deck chairs around on the Titanic," and said the council has failed to make meaningful changes to busing in the city.
"It's not going to change until we decide that we want it to change," Starr said.
What happens next?
The council is expected to vote next month on adding more money to the transit budget to implement this plan.
The city will also hold public meetings to dive into the specifics of route changes.
The new hybrid services are set to begin this summer.