This is a paid piece from the Sioux Metro Growth Alliance.
Simplified: The City of Canton has been working for several years to build a new public pool. It hasn't been easy, but after overcoming several obstacles, a city-run garbage collection service could be the final piece of the puzzle.
Why it matters
The need for a new pool has been on Canton's radar for nearly two decades. Three times in the last 20 years, the city has failed to pass a bond to fund construction of a new pool, but that changed in 2020 when voters overwhelmingly agreed the time for a new pool is now.
But with recent inflation, by the time the pool project went to bid, costs of construction came back $2 million higher than anticipated. Now, the city is looking at creative ways to make up that difference – including extra revenue from city-run garbage collection.
In the meantime, Canton's old pool was shut down and torn out after more than 60 years in service. But with two housing developments in the works in town, it's essential that the city has amenities like a pool to help attract young families, Chairperson of the Pool Committee Todd Gannon said.
"In order to bring residents into a community, especially with school-aged children, you need amenities," Gannon said. "You need things for kids and families to do, and the community pool is a focal point."
What's included in the plans for a new pool?
The new pool would go in the same site as the old pool in the center of town near the baseball fields.
Early renderings include:
six 25-yard swim lanes,
a zero-depth entry with a water slide,
a play structure for kids,
and both a 1-meter and 3-meter diving board,
Here's a photo of what it might look like: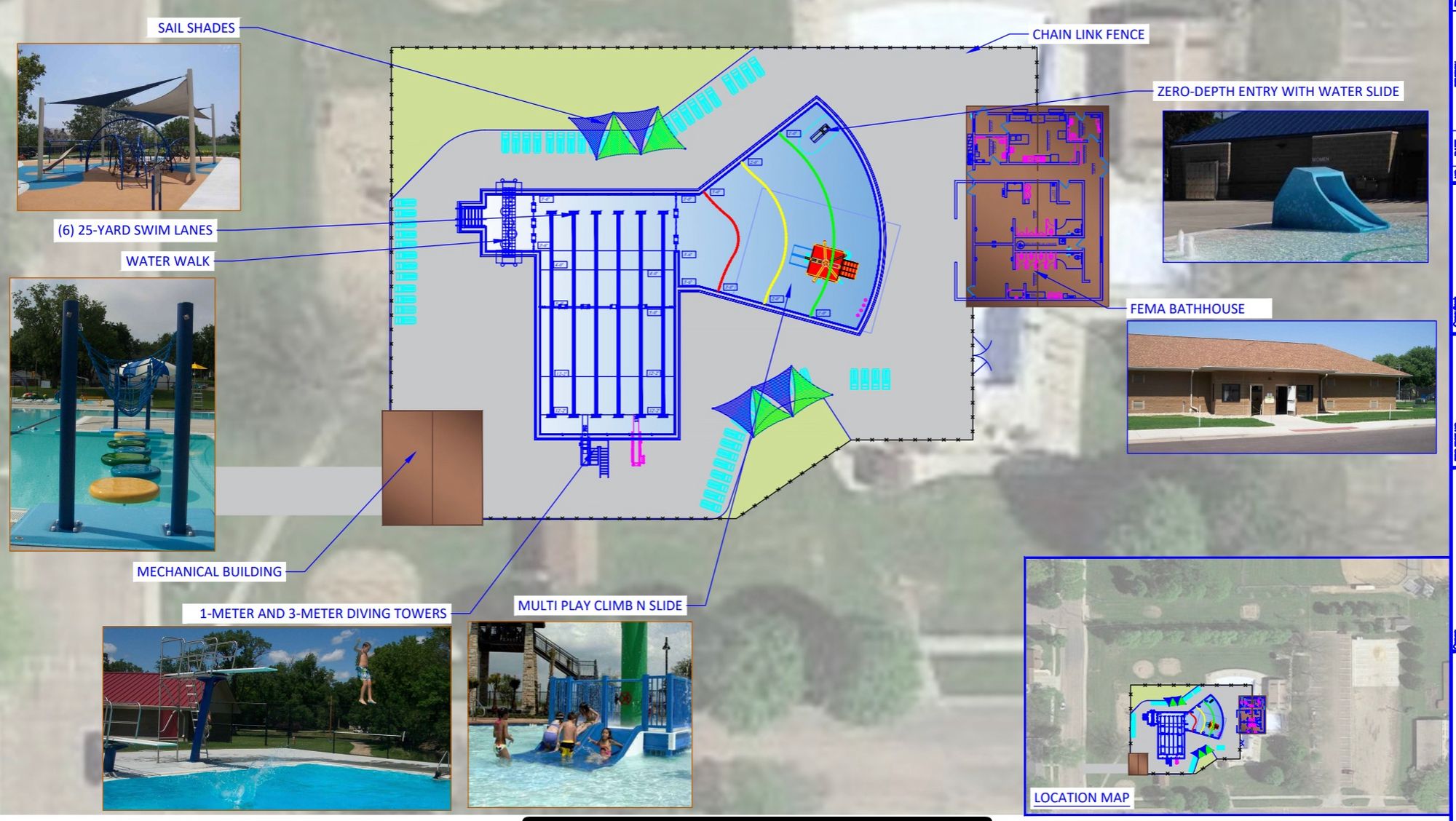 Tell me more about how we got here
Canton voters in 2020 approved a $2.7 million bond to fund the pool.
Additionally, the pool committee has secured $1.5 million in private donations.
The city has also secured a $400,000 federal grant – though it took a year, and the help of Sen. Mike Rounds, to get those funds in place.
But while Canton was waiting for that money, the costs of construction went up significantly, Gannon said. What was initially billed as a $5 million project is now going to cost around $7.2 million.
In looking to bridge that gap, the pool committee found a possible solution in city-run garbage collection.
"Creative solutions and community partnerships are exactly what it takes to make big projects possible," said Jesse Fonkert, president and CEO of the Sioux Metro Growth Alliance. "Canton's commitment to building a pool is impressive, and I have no doubt they'll make it happen."
How might garbage help fund a pool?
It's important to note that this is still in the "idea" phase. No action has been taken yet to switch to city-run garbage.
But Gannon said it could be a viable way to make up the difference in funds needed to make the pool a reality.
Here's how it'd work:
Right now, Canton has private garbage services, meaning residents choose whichever provider they'd like to come collect their trash.
In a city-run garbage collection system, Canton would put out a bid to trash collectors and choose the lowest offer.
Because the city would take care of billing logistics, Gannon anticipates collectors would offer much lower rates to the city than they're able to offer directly to customers.
Customers' bills won't go up, but because costs are lower, the city would have extra income from garbage collection to then help pay for the pool.
"While Cantonites are still paying for their garbage service, the profits from that don't leave town and go to building the wealth of garbage companies," Mayor Sandi Lundstrom said. "It stays in our community to help us realize projects that people would like to see done. This won't be limited to only one project and then be done. It will continue to bring in revenue, and it is no extra cost to the taxpayer. The citizens are already paying for the service, the bulk will just stay here."
What happens next?
The plan to use city-run garbage collection to help fund the pool has already been presented to commissioners.
The next step would be for commissioners to draft an ordinance and bring it forward for final approval.
"We're hopeful that they'll be able to act here in the next month or two," Gannon said.
In the meantime, anyone wishing to donate to make the pool a reality can send a check to the Canton city offices at 210 N. Dakota St., Canton, SD 57013.