This is a paid issue from the Sioux Metro Growth Alliance.
Happy Tuesday! Megan here.
Welcome to this special sponsored issue where we'll look at growth in and around Sioux Falls.
Who's behind this? The Sioux Metro Growth Alliance – SMGA, for short – is all about economic development. That means, the organization is working to bring more people, more businesses and, ultimately, more money to Sioux Falls-area communities.
In this issue, we'll use census data as a jumping off point to look at how communities around Sioux Falls have grown and changed in the last decade. You'll also get a peek at SMGA's new website and a special "What I'm falling for" takeover from SMGA President and CEO Jesse Fonkert.
And now, news:
GROWTH
How communities around Sioux Falls have grown in the last decade
Simplified: More than 48,000 people have moved to Minnehaha and Lincoln County since 2010, and a good chunk of that growth is happening outside Sioux Falls city limits.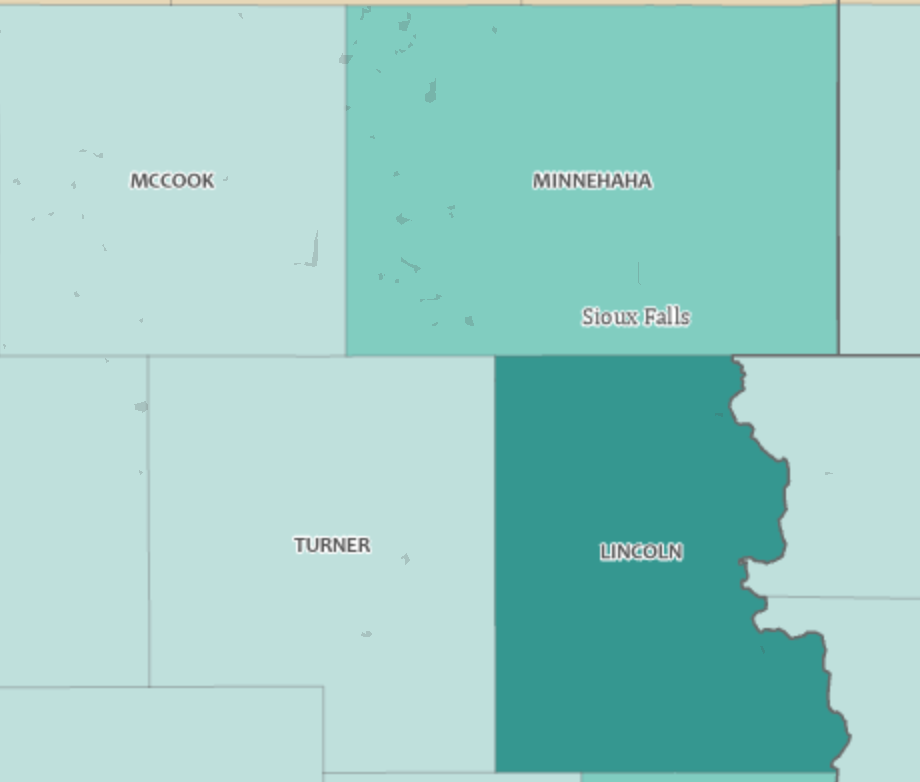 Why it matters
About 20 percent of population growth in the two counties over the last decade has been outside Sioux Falls city limits, with Harrisburg, Tea and Brandon seeing the highest rate of growth.
It's not just people. More businesses – from industrial to agricultural to retail to restaurants – are also coming to towns surrounding Sioux Falls.
Lincoln County is seeing the fastest rate of growth, with a 45 percent difference in population in 2020 compared to the previous census. The rate of growth in Minnehaha County was 16 percent.
All signs point to that growth continuing, said Jesse Fonkert, president and CEO of the Sioux Metro Growth Alliance.
"We'll continue to see more interest in small towns," Fonkert said. "Our mission is to help them grow their economies as more people and businesses come to the metro area today and into the future."
What does the growth look like in specific towns around Sioux Falls?
No town saw a faster rate of growth than Harrisburg, which added more than 2,600 people, according to 2020 census data. That's a 65 percent increase in population from 2010.
Tea also saw a spike in population with an addition of nearly 1,800 people.
Brandon saw a slightly slower rate of growth, given its already larger population size compared to other surrounding cities, but the town also added more than 2,200 people since 2010.
Specific 2020 census data isn't yet available for towns with a population under 5,000, but city officials in Lennox estimate the town has added another 400 residents.
"What happens in Brandon, Harrisburg, Tea – that at some point has to start spreading out to communities that are further out in the metro area," said Nate Vander Plaats, Lennox city administrator.
That's true in Hartford, too. The town is closing in on a population surpassing 4,000 people, compared to just over 2,500 in the last census.
As of 2018, Dell Rapids had also surpassed 4,000 people, and in 2019, Canton was nearing 3,400.
Other towns in the counties – including Baltic, Colton, Crooks, Garretson, Humboldt, Valley Springs, Worthing and Sherman – have fewer than 2,000 people.
See an interactive map of 2020 census data here.
How has the population changed?
As the area has grown, so, too, has its diversity.
About 1 in 5 people living in Minnehaha County identifies as a person of color, an increase from 2010 when the number was closer to 1 in 7.
Lincoln County has also seen increased diversity with about 1 in 10 residents identifying as people of color. That's up from 1 in 20 in the 2010 census.
What's driving growth in metro-area communities?
There's no one answer to that question.
In part, the growth is a ripple effect of population growth within Sioux Falls. As the city grows, so, too, do the communities around it.
That's certainly the case in Hartford, said Amy Farr, economic development director.
Schools also play a role. Harrisburg City Administrator Andrew Pietrus said one of the main forces driving population growth in Harrisburg, beyond its proximity to Sioux Falls, is the school district.
That's a sentiment echoed by leaders in Tea, Brandon, Lennox and more.
There's also the draw to live in a place with a small-town vibe that's still in close proximity to the amenities of a bigger city.
"A lot of (people) come from smaller communities," Harrisburg Mayor Derick Wenck said.
What happens next?
If history is any indicator, more growth.
That's why the Sioux Metro Growth Alliance's holistic approach to economic development is so important. The nonprofit helps to attract, develop and expand businesses, while also helping spur residential developments.
---
NEW TECH
Sioux Metro Growth Alliance launches new website
Simplified: Communities in Minnehaha and Lincoln Counties now have a hub for resources related to all things growth and economic development. Enter, siouxmetro.com.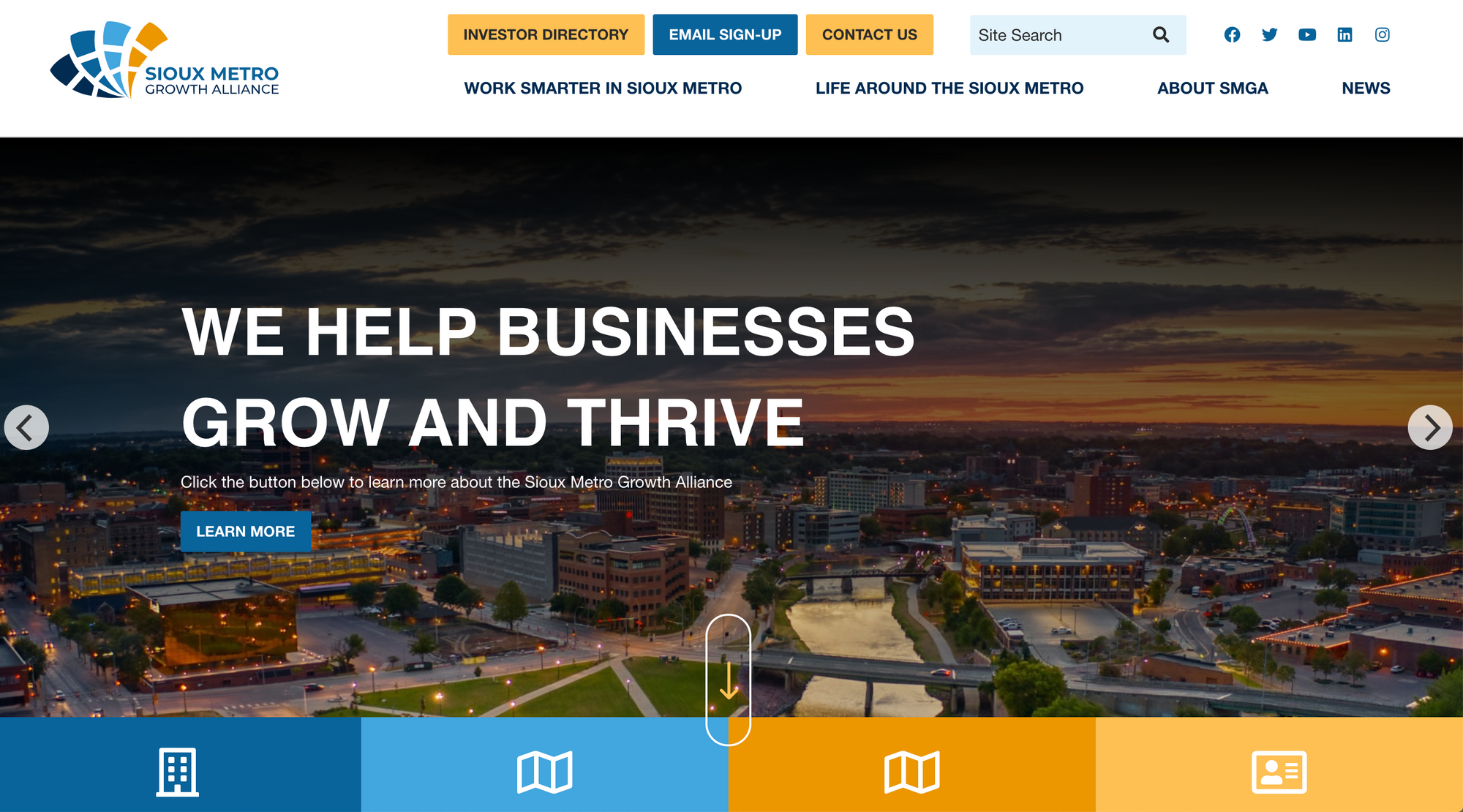 Why it matters
The Sioux Metro Growth Alliance has worked for years to help bring new business and industry to the area while fostering each community's unique needs. Now, that work has a home in the digital space.
The website is a place to share community stories of growth and development, and it's chock full of data about each community in the two counties.
It's also got a database of available properties in the metro for both residential and commercial development, as well as a thorough overview of various taxes and tax incentives.
"As more and more people and businesses look to expand into the metro area, it's important for them to have all the resources at hand," said Jesse Fonkert, president and CEO of the Sioux Metro Growth Alliance.
Check it out
See the new website and all of its data here.
---
Stuff to watch:
New restaurant. The Combine, a small-town sports bar, is expected to open in October in the former O So Good location in Garretson.
Fall festivals. Oakridge Nursery and Landscaping in Brandon is hosting a Fall Harvest Festival from 8 a.m. to 5 p.m. on Oct. 2. And, on the same day from 1 p.m. to 10 p.m. is the 21st annual Newton Hills State Park Festifall, including a candlelit walk.
Anniversary parties. Dakota Resources – an organization aimed at supporting rural communities and economic development groups – will celebrate its 25th anniversary at a Sept. 24 event at Buffalo Ridge Brewing in Hartford. Details and RSVP here.
---
THIS AND THAT (GUEST EDITION)
This installment of "What I'm falling for" is from SMGA's President and CEO Jesse Fonkert.
What Jesse is falling for:
---
How to connect with the Sioux Metro Growth Alliance
The best place to learn more is the new website, www.siouxmetro.com.
You can also sign up for email updates from the nonprofit here.
And, if you want to connect with SMGA leadership, you can find them here.