Happy Wednesday! Megan here.
I hope you all had a restful Labor Day weekend!
Weather check: Beautiful
Status check: It's a new school year, a new season and time for a new start at my subscriber goal. Help make more Sioux Fallsians smarter by sharing this newsletter.
This week, I'll tell you about how City Council came to an agreement on medical marijuana rules, how the Levitt rebounded in its second season after a year off and how job shortages are hitting garbage haulers.
And now, news.
CITY
How City Council came to agree on medical marijuana rules
Simplified: Sioux Falls City Council on Tuesday passed an amended set of rules for medical marijuana dispensaries. Here's a look at the changes from the original proposal.
Why it matters
Tuesday's vote is the culmination of months of work by city government in looking at possible time, place and manner restrictions for medical marijuana now that it's legal statewide.
The rules kept a cap of five dispensaries as well as a ban on cultivation and manufacturing facilities in city limits.  
The council did loosen some restrictions by lowering fees for businesses, adjusting the process to get a license and allowing license holders to transfer – i.e. sell – licenses to others.
Other changes failed to pass, including two amendments from Councilor Pat Starr – one looking to remove the cap on the number of dispensaries, and another removing limitations on how dispensaries can market or display what they're selling.
Councilors called the final ordinance – which passed 7-1, with Starr as the lone dissenting vote – a compromise.
"It kind of hurt me to agree to some of what I voted on here this evening," Councilor Rick Kiley said. "But I think if it doesn't hurt, you're not compromising."
Take a look at the rules and how amendments impacted the final product.
---
COMMUNITY
How the Levitt bounced back in its second(ish) season
Simplified: Levitt at the Falls surpassed its 2019 concert attendance this summer after a year without mainstage shows due to the pandemic. And nonprofit leaders are already looking ahead to a 50-concert season in 2022.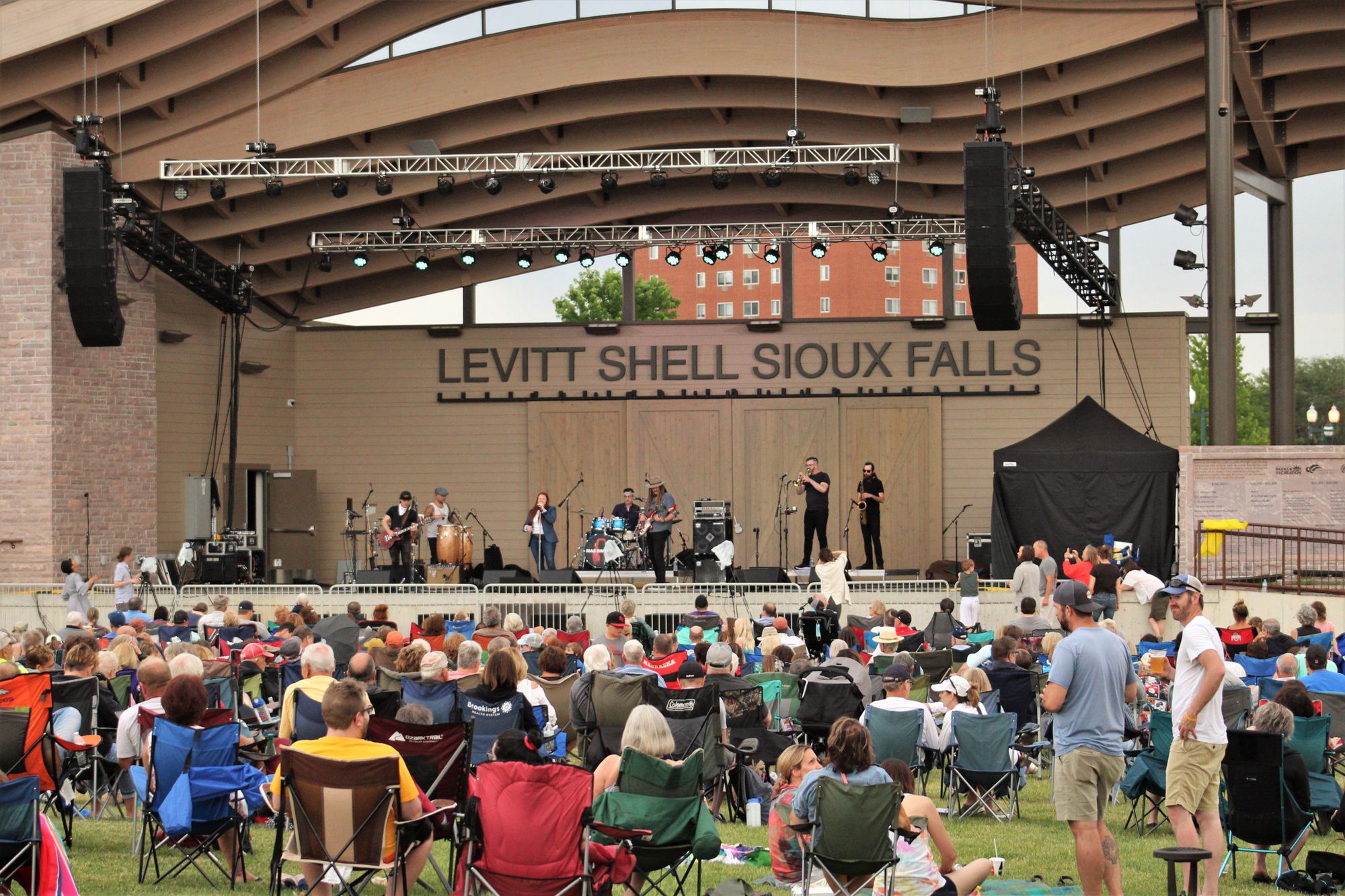 Why it matters
Levitt at the Falls is part of a nationwide network of similar outdoor music venues aimed at strengthening communities through free, live music.
The Sioux Falls Levitt venue opened in 2019 near Falls Park with an inaugural season of 28 shows, bringing in about 58,000 concertgoers, according to Executive Director Nancy Halverson.
The 2021 season (so far) has had nearly 61,000 in-person attendees over 37 concerts with another 50,000 watching online, a new service offered this year. Final shows run Sept. 10 and 11.
The initial plan was to expand to 50 free concerts in the summer of 2020, but the entire season was canceled due to the coronavirus pandemic. The organization pivoted to some smaller neighborhood events and online programming.
"We created all of this online content," Halverson said. "We did pop-up Levitt in Your Neighborhood, where we employed local artists ... For us, we did OK because our donors understood we were continuing to live our mission."
---
SIMPLIFIED PRESENTS
How you can receive energy healing from home
This is a paid piece from Selah Space.
Simplified: Selah Space now offers distance reiki, a way to receive energy healing from the comfort of your own home.
Tell me more
Reiki is a form of energy healing intended to balance your energy and chakras.
Selah Space Owner Jada Dobesh describes it as "anointing prayer."
Why it matters
The benefits are as far and deep as you're willing to let them go, Dobesh says. It can start as simple as a relaxing self-care hour or be a recurring method of healing.
Distance reiki allows you to receive those benefits wherever you are.
Sessions happen over Zoom, and the goal is to create the same type of an energy balancing experience as Dobesh creates in-person at Selah Space.
"I've had people say, 'I can feel where you were working,'" she said. "You're still experiencing it."
How does distance reiki work? And how do I get started?
---
Stuff to watch:
Avera Health. The hospital system announced Tuesday that all employees – including students, contracted workers and vendors – will be required to have a COVID-19 vaccine. The announcement comes a little more than a month after Sanford Health instituted a similar policy.
School kids. Sioux Falls public schools saw fewer elementary students this year, according to numbers shared with board members last week. More on the reasons behind the data to come in Monday's meeting.
Vast Broadband. After concerns from residents and a pause on permits from the city, the company was back in front of the City Council Tuesday afternoon with a plan for communicating its work moving forward. Vast went back to work laying fiberoptic cable late last month.
---
COMMUNITY
How worker shortages are hitting garbage routes
Simplified: Garbage haulers are the latest in a string of industries singing the staffing shortage tune in Sioux Falls, and for at least one company, customers are starting to see the impact.
Why it matters
Sioux Falls' unemployment rate is low – 2.5 percent (seasonally adjusted as of July per the Bureau of Labor Statistics) – so finding workers is a struggle for pretty much every business in town right now.
Waste management services are no exception. Shortages hit Novak Sanitary Services to the point where it's suspending some yard waste routes this week to accommodate staff shortages and vacations, according to Patrick Draisey, assistant district manager.
The impact is felt differently depending on the size of the company, but even smaller garbage haulers are feeling some strain as employees work long days and owners fill in to get routes completed.
"We don't have enough people to run all of our routes, so we have to prioritize what is most important, Draisey said.
How shortages are hitting businesses and how they're coping.
---
THIS AND THAT
Stuff to do:
Parade of Homes. Tour newly built homes across the city. Details here.
Sidewalk Arts Festival. More than 240 vendor booths in downtown including regional makers, music, food and live entertainment from 9 a.m. to 5 p.m. Saturday.
Germanfest happens Saturday starting at 1 p.m. in Fawick Park near downtown. I can't figure out if they're doing wiener dog races again this year. But you know how the saying goes: shoot for the wiener dog races, and even if you miss, you'll land among the pretzels and beer.
Boutique birthday. Leela and Lavender boutique is celebrating two years in business at 69th and Western with giveaways and snacks starting Thursday through the weekend.
Step Up for Heroes. This annual event recognizes lives lost in the World Trade Center buildings on 9/11/2001. Participants will walk 110 flights of stairs at the Sioux Falls Arena – details here.
Want to see your event listed here? Email megan@sfsimplified.com.
---
What I'm falling for this week:
---
Become a member
Has Sioux Falls Simplified made you feel smarter about where you live? Consider buying in to a smarter Sioux Falls by becoming a member and offering financial support to the no B.S. journalism you've been reading here.