Simplified: Tyler Northrup was starting to think he'd never see his kayak again after losing it on a special father-son trip with his 15-year-old. But with the help of a viral Facebook post and a friendly farmer, his story has a happy ending.
Tell me more
This wasn't just any kayak. Northrup had spent about 500 hours over the course of an entire winter to build that kayak back in 2010. He later built a second kayak for his wife.
Northrup – who, when he's not kayaking serves as technology business partner for Sanford Health and the Good Samaritan Society – was on a weekend trip with his teenage son, Cole the weekend of June 2 when the kayak was lost.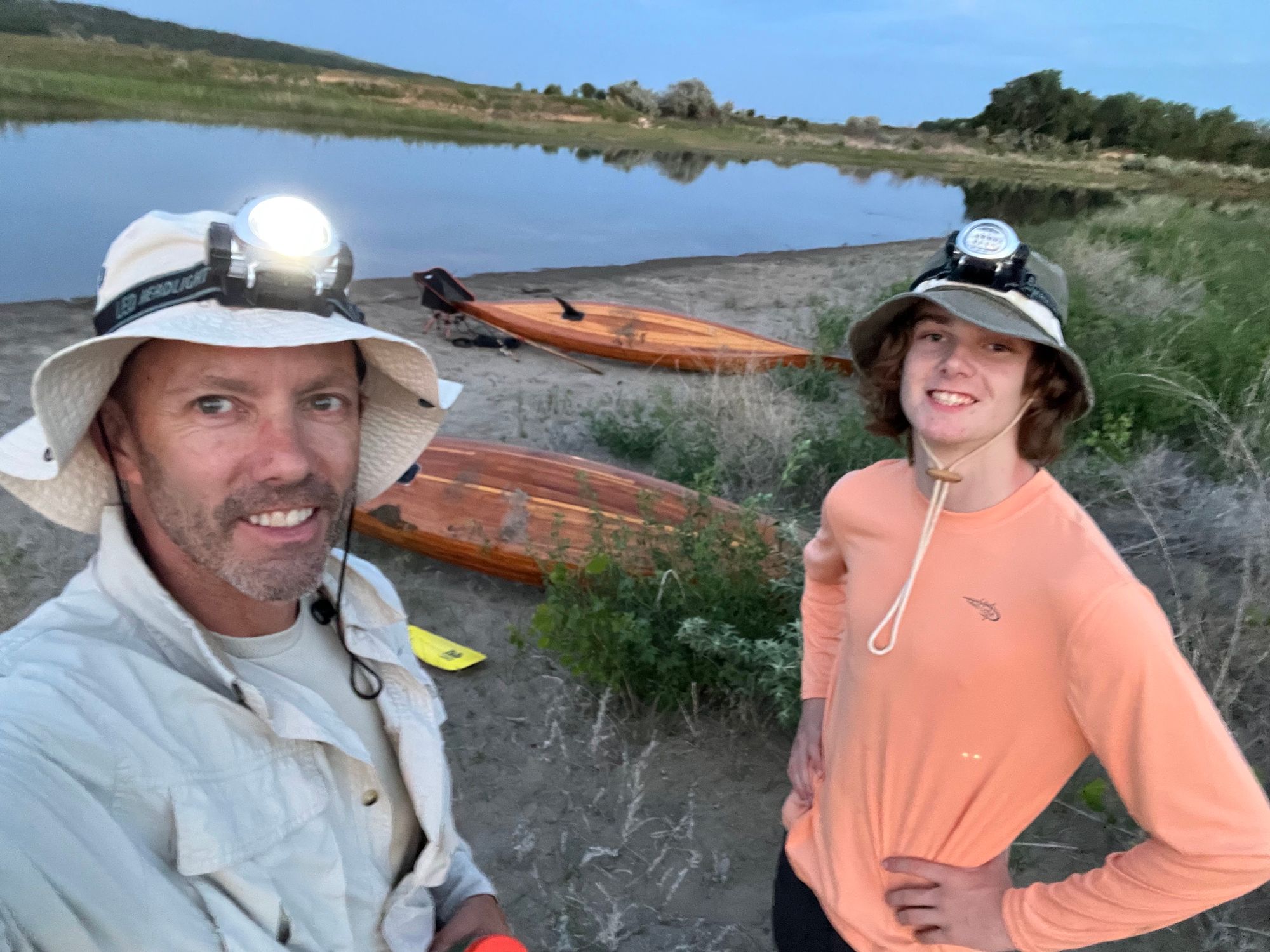 The two had paddled 30 miles on the Missouri River that day – from around the Fort Randall Dam area to a town called Niobrara, Nebraska – and water levels had been very low.
Overnight, though, that changed. And when Northrup woke up on Sunday morning, where there had once been two kayaks, there was only one.
"My heart just fell," Northrup said.
What happened next?
Northrup woke up his son, told him what happened, and they spent about four hours Sunday searching up and down the river for the kayak. No luck.
"There's a lot of sandbars, tall canary grass, different types of weeds and grasses, shoots of water that go into the tall grass and twist around," Northrup said. "It's pretty easy to get lost if you don't know where you're going."
Even easier to get lost if you're an unmanned kayak.
With the help of some local fishermen, the father-son duo made it back to their car, and on the drive back, Northrup put out a Facebook post sharing what had happened and a photo of both the kayak and a map of the general area where it'd been lost.  
The post was shared more than 3,000 times.
So, how did the kayak get found?
Several people were on the lookout because of the Facebook post.
One person brought out a drone to search the area.
Game, Fish and Parks officials were alerted.
People all around the area were watching for it, Northrup said.
But when he went into work on Monday, it hadn't been found, and he was starting to lose hope.
Enter Nick Kniffen – a farmer from Tyndall who saw the Facebook post. And who happens to have an airplane.
Kniffen was moved by the post because both he and his wife also like to kayak. He reached out to offer help.  
"There was just a need there, and I just thought it was the right thing to do," Kniffen said.
Kniffen first went up by himself to search the area, but he could't find it. He called Northrup, who drove down to meet him, and the two flew up to search the area together.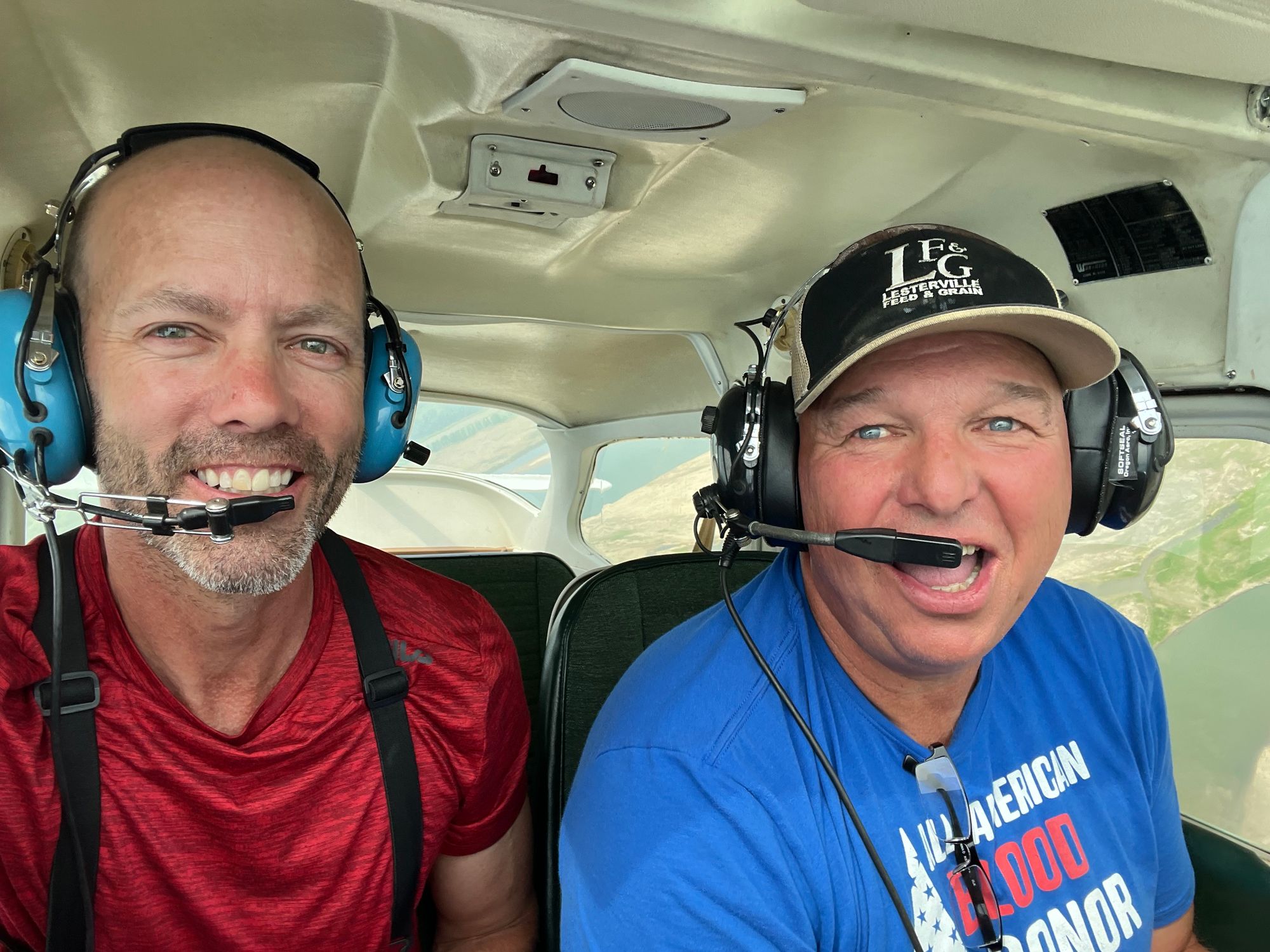 Sure enough, from a bird's-eye view, Northrup spotted the kayak in a whole bunch of grass.
Kniffen landed and stayed with Northrup the whole time while the kayak was recovered.
What's the moral of the story?
For Kniffen, the whole experience was a reminder of the good that can come from just helping someone out.
"There's so much bad news in the world," he said. "I think we need to combat that with good things."
For Northrup, it was striking to see how many people reached out to help after seeing his story – a real example of Midwest values, he said. He even made a new friend along the way.
And, all told, the weekend of father-son bonding was a success.
"We were riding home that Sunday in the car, and (Cole) turned to me in the car," Northrup said. "And he said, 'Dad, I want you and me to do a trip like this every year."