This is a paid piece from the Sioux Metro Growth Alliance.
Simplified: A tornado tore through just under two miles of Lennox on Saturday afternoon, and right away community members were out helping each other clean up the mess it left behind. Here's a look at how businesses and individuals came together to help.
Why it matters
The National Weather Service said the EF-1 tornado had a 400-yard width, 95 mph winds and a 1.9 mile path when it hit Lennox.
There were no injuries. But homes, businesses and the Lennox high school were damaged, along with felled trees across town.
Cleanup efforts began immediately, and by Sunday morning there were crews helping remove debris, fixing the school roof, and donating food and water to volunteers.
"There were just groups of people that'd get together and walk down the road, and if it looked like people needed help, they'd chip in, whether they knew them or not," Mayor Stacy DuChene said.
How extensive was the damage?
Trees probably took the biggest hit, according to City Administrator Nate Vander Plaats, especially across the southern part of town where the tornado hit.
When it comes to city property, the baseball field sustained the greatest damage with some downed fencing, as well as damage to city park buildings.
A portion of the rubber membrane topping the high school roof blew off, as well, which led to 2 to 3 inches of rain in some classrooms.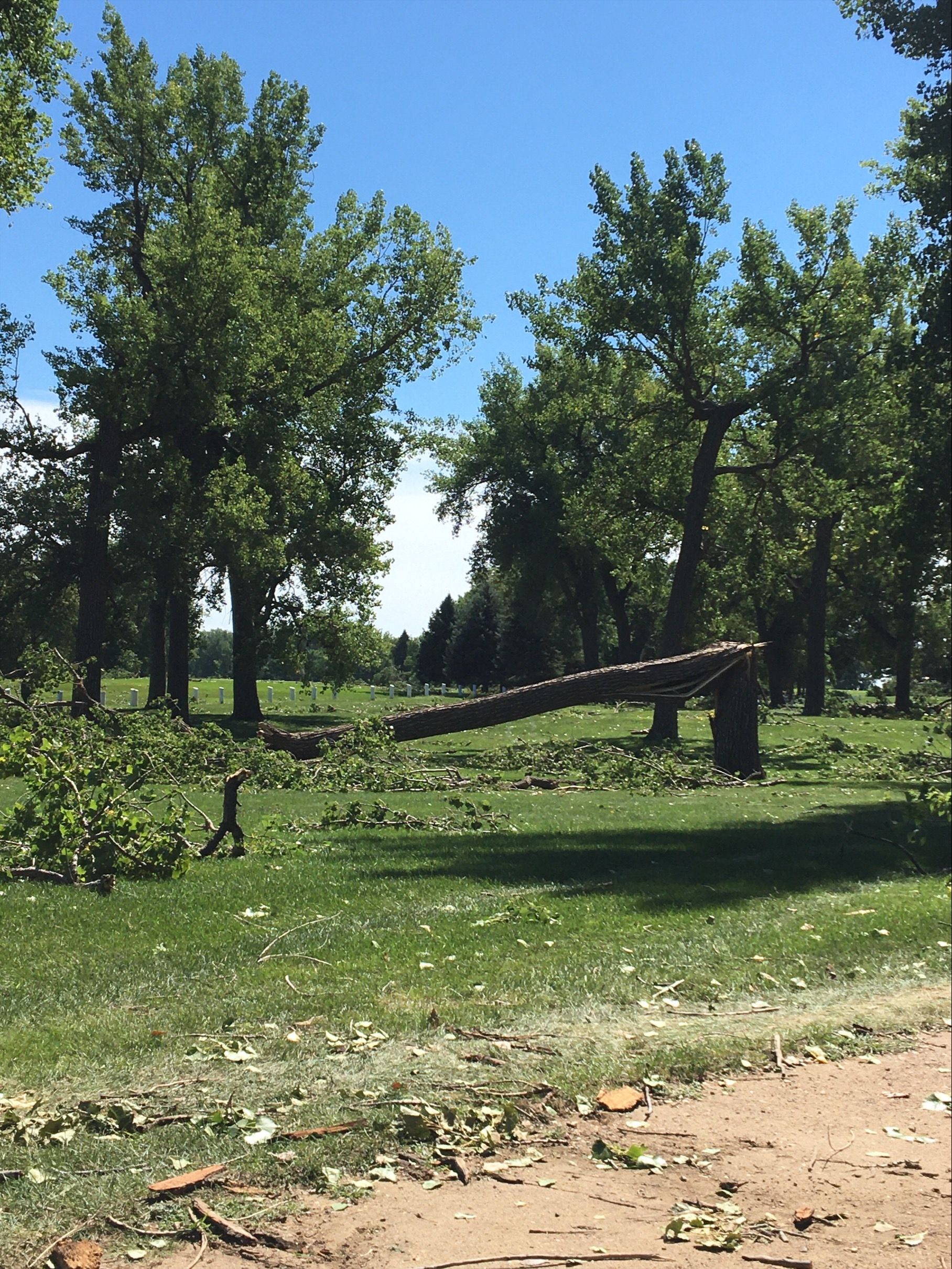 How people stepped up to help
As soon as the initial storm passed, DuChene said she heard chainsaws going around town.
Businesses – including Rough Sawn Lumber, Total Tree Service, C. Dillon Digging, Wright Tree Service and others – showed up to help remove felled trees.
Xcel Energy worked to get power back on within about 24 hours in most places.
Immediate help also came from local agencies including the Lincoln County Sheriff's Office, emergency management, the Highway Patrol, the Lennox Fire and Police Departments, and the city's street crews.
"This neighbor-helping-neighbor response illustrates exactly why the Sioux Falls metro area is a great place to live," said Jesse Fonkert, president and CEO of the Sioux Metro Growth Alliance. "When there's a need, both businesses and individuals are ready to lend a hand."
What about the high school?
At the school, tarps were laid down right away to prevent more water damage as rains continued, Superintendent Chad Conaway said. A refrigerated trailer was brought in to save schools food from spoiling in the power outage.
Football players from Tea – one of Lennox's competitors – came down Sunday to help Lennox football players clear debris off the field.
Classes resumed Tuesday, and Conaway estimated the building would be entirely repaired by the end of the month.
That's in part due to the help of J&P Roofing, which was able to help secure the insulated boards needed to fix the roof – boards which otherwise would've been back ordered six months, Conaway said.
"The big thing is, people just showed up," Conaway said of the storm's aftermath. "I didn't really have to make many calls. People just came and knew things had to be done."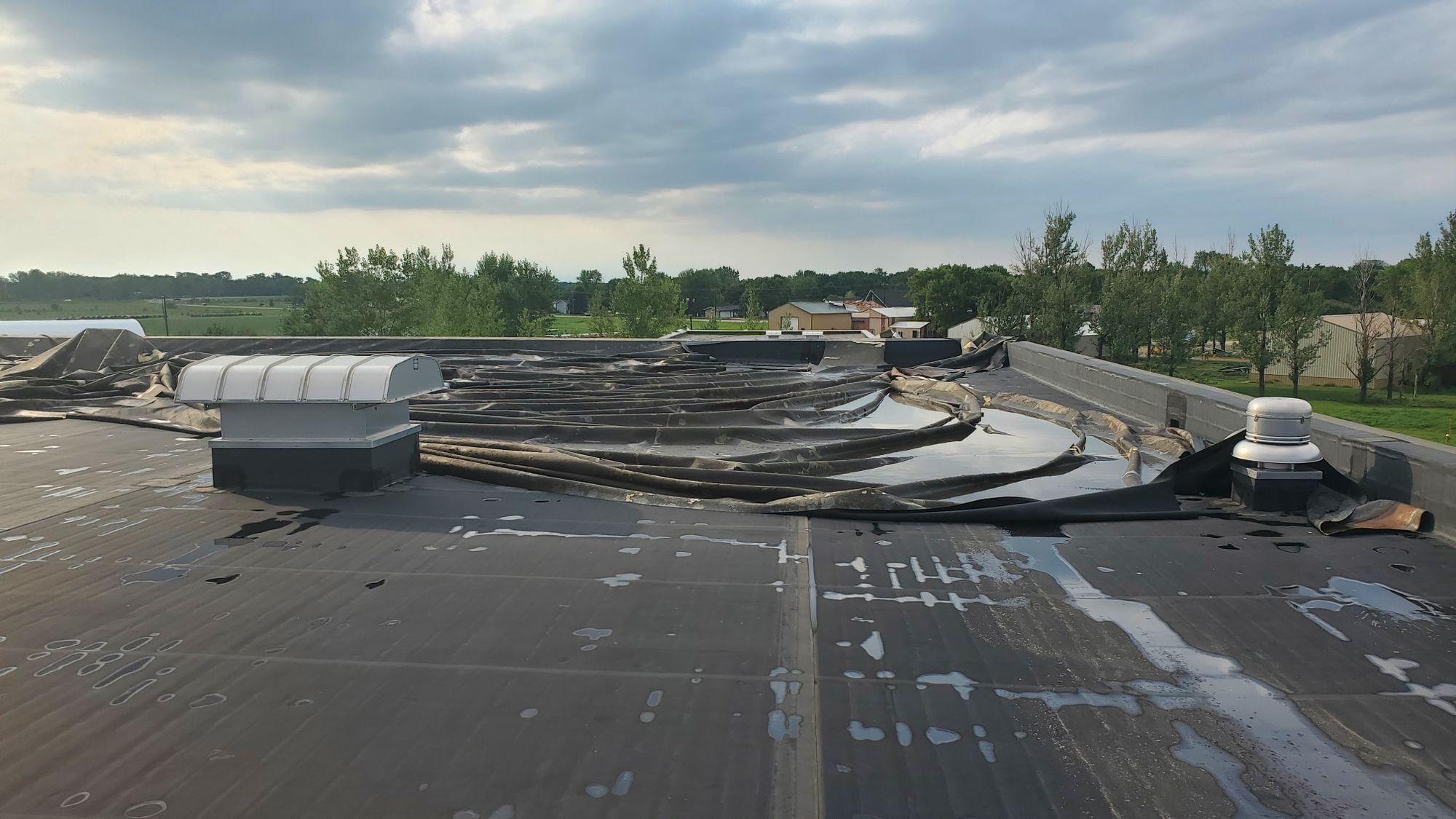 How you can help
Call City Hall at 605-647-2286.
The city is keeping a list of people who have offered time, materials or equpiment to help with the cleanup effort, Vander Plaats said.