Simplified: South Dakota had twice as many open teaching positions this May compared to last, according to data from the South Dakota Teacher Placement Center. And school hiring challenges don't end with teachers.
Why it matters
Most, if not all, industries in the state are seeing hiring challenges as demand for workers outpaces supply. Schools are no exception.
Sioux Falls alone is on pace to hire a record 200+ teachers this year, said Becky Dorman, human resources director for the Sioux Falls School District.
Districts from Tea to Sioux Falls to Harrisburg are also struggling to fill support positions from bus drivers to custodians to paraprofessionals.
"There just doesn't seem to be enough applicants for all the jobs we have open," Dorman said.
What's driving the teacher shortage?
For years, the state has been watching a looming number of teacher retirements statewide, said Wade Pogany, executive director of the Associated School Boards of South Dakota.
Pogany suspects some of those teachers may have stuck around for an extra couple years when the state in 2016 gave an influx of $67 million* to raise then-last-in-the-nation teacher salaries.
Even still, the retirements were inevitable.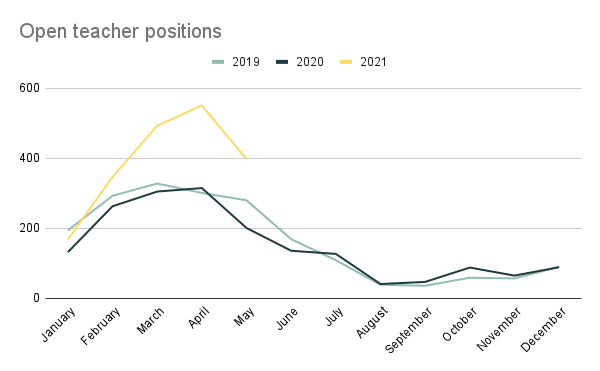 Then, the pandemic hit. And even more chose to leave the profession due to burnout.
"This was hard," Pogany said. "This was a really difficult year."
Specialized teaching positions are some of the hardest to find, especially special education teachers, math teachers and fine arts teachers.
What about school employees who aren't teachers?
Those can be even harder to find, say district officials.
Dorman estimates she's doing the most recruiting she's ever done this year in an effort to fill all open positions.
"It used to be someone would fill out an application," she said. "And now we are reaching out to them."
In Tea, the biggest struggle right now is hiring bus drivers and paraprofessionals, Superintendent Jennifer Nebelsick Lowery said.
Those experiences track with the rest of the state, Pogany added.
"Schools are a big industry," he said. "It's big business. But they're competing ... to try to find people in service industries."
How Sioux Falls is getting creative with hiring
Sioux Falls is hiring more "alternatively certified" teachers this year, Dorman said. That means people have the background knowledge needed to teach a given subject, but they didn't go through the traditional route to become a teacher.
For example, Dorman said she hired a biology teacher whose background was researching in a lab.
The district is also hiring more people from out-of-state.
Usually about 20 percent of new hires are from out-of-state.
This year, 34 percent of new hires are coming from outside South Dakota.
Schools are also willing to be flexible, from people who want to work an hour a day in a lunchroom to those who want a full-time job with benefits, Dorman said.
"If you want to be a part of a school," she said, "we want you to be part of a school."
*(Side note: Five years after the statewide effort to raise teacher pay out of last place, salaries are 50th in the nation, beating out Mississippi in the last-place spot, according to the National Education Association.)