Happy Wednesday! Megan here.
I hope you are preparing for, coming back from or currently on vacation. And, if you have to work all week or weekend, at least treat yourself to a fun coffee or something. Life's too short.
This week, you'll find a guide to fireworks 🎆 🇺🇸, hear from outgoing Police Chief Matt Burns and learn how Sioux Falls health officials are preparing for the delta variant of COVID-19.
I've also got a more in-depth look at how schools are struggling to fill open jobs. Be sure to click through and get the full story on that one.
And now, news:
EDUCATION
How workforce shortages are hitting schools
Simplified: South Dakota had twice as many open teaching positions this May compared to last, according to data from the South Dakota Teacher Placement Center. And school hiring challenges don't end with teachers.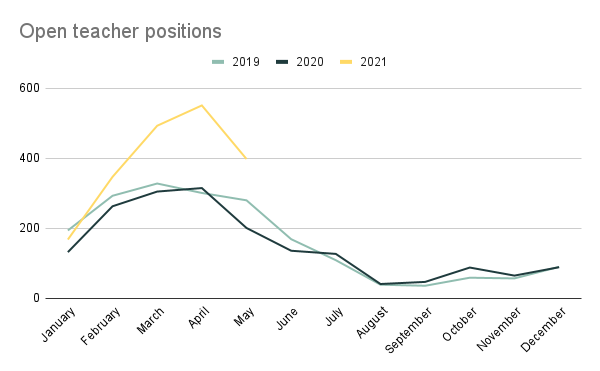 Why it matters
Most, if not all, industries in the state are seeing hiring challenges as demand for workers outpaces supply. Schools are no exception.
Sioux Falls alone is on pace to hire a record 200+ teachers this year, said Becky Dorman, human resources director for the Sioux Falls School District.
Districts from Tea to Sioux Falls to Harrisburg are also struggling to fill support positions from bus drivers to custodians to paraprofessionals.
"There just doesn't seem to be enough applicants for all the jobs we have open," Dorman said.
Learn more about what's driving the shortage, how it is affecting support staff and what Sioux Falls is doing to overcome hiring struggles.
---
CITY
What to know about Matt Burns' tenure as Sioux Falls Police Chief
Simplified: Matt Burns went from patrol cop to top dog in the Sioux Falls Police Department over a 25-year career in law enforcement. Ahead of his retirement next month, Burns looks back on his tenure as chief and gives a glimpse into the challenges his successor will be facing.
Why it matters
Burns oversaw the department through nearly six years of growth and the addition of about 30 officers.
He took over the department in 2015 after former Chief Doug Barthel retired. He was appointed by former Mayor Mike Huether.
As he prepares to retire from his career in law enforcement, the 50-year-old chief said what he's most proud of is the heart and hard work of the officers in the department.
"They're running toward the danger," he said. "It's just the culture of our department. It's a matter of strong pride that we take care of business and do it in a professional way."
Learn more about Burns' legacy, what happens next and who is slated to replace him.
---
SIMPLIFIED PRESENTS
Why you should celebrate the Fourth of July in Lennox
This is a paid piece from the Sioux Metro Growth Alliance.
Simplified: The people of Lennox go big when it comes to Fourth of July celebrations. But there's also stuff to do all summer long in the town just southwest of Sioux Falls.
Tell me more
Lennox's annual old fashioned Fourth of July celebration draws thousands of people to town.
It's a weekend full of events for all ages, and the whole town gets in on the fun, City Administrator Nate Vander Plaats said.
"It is huge," Vander Plaats said. "There's stuff for everybody from the parade to the car show to the art in the park to the kiddy tractor pull, and, of course, the fireworks at the end of the night."
Learn more about specific events this weekend and other things to do in Lennox all summer long.
---
Stuff to watch:
Legal marijuana. To clarify, that's legal medical marijuana. The measure voters approved to legalize recreational marijuana is still tied up in court. The Argus Leader has a helpful video answering common questions about the new medical marijuana law and what it means for you.
Trails. The city broke ground Tuesday on the Cherry Rock Trail Corridor addition to the trail system. The 1.4 mile trail will connect Legacy Park to Family Park with a neighborhood access point for the Hayward Park neighborhood.
Flights. Allegiant announced new routes Tuesday, including a direct flight from Sioux Falls to Austin, Texas. Flights will start Nov. 18 with fares starting at $39, according to a press release from the company.
---
HEALTH
What local doctors want you to know about the delta variant
Simplified: It's only a matter of time before the delta variant of COVID-19 is confirmed in South Dakota. Here's how health care providers are preparing for that and what you can do to stay healthy.
Why it matters
The delta variant is shown to spread more easily and has a higher rate of hospitalization, said Dr. Kevin Post, chief medical officer for Avera Medical Group.
It's not confirmed in South Dakota, but neighboring states including North Dakota have seen cases.
Vaccines protect against this and other variants, doctors say, and they're urging folks to consider getting a vaccine to help prevent the spread of the coronavirus and future variants.
The more people that receive the vaccine, the sooner we can put a stop to additional strains of the virus surfacing in our community," said Dr. Mike Wilde, vice president medical officer at Sanford Health in Sioux Falls.
Learn more on how to stay healthy and avoid spreading disease.
---
COMMUNITY
Your guide to Sioux Falls area fireworks
Simplified: 'Tis the season for pyrotechnics. Here's what you need to know about where to watch them and where to set them off.
Where to watch them:
The big show in town is the annual Sioux Falls fireworks display at the fairgrounds starting around 10 p.m. on July 4. You can also go early, grab food from food trucks and listen to the municipal band.
Harrisburg also has a fireworks display starting at dusk (between 9:40 and 10:15 p.m.) on July 4. It'll be set up north of the Central Park ball fields.
Lennox has its annual display at dusk on July 5 with fireworks shot off from the high school parking lot.
If you're willing to wait until July 9, you can also catch fireworks at the end of the Canaries' home game.
Where to shoot them off:
Outside Sioux Falls city limits.
Within city limits, you can light sparklers, snakes and other fireworks that don't make a loud noise or shoot stuff into the air, per city rules.
Get caught, and it'll cost you a $95 fine.
---
THIS AND THAT
What I'm falling for this week:
Lightning bugs
Koko the dog (please someone adopt her and then tell me about it so I can sleep at night)
Become a member
Has Sioux Falls Simplified made you feel smarter about where you live? Consider buying in to a smarter Sioux Falls by becoming a member and offering financial support to the no B.S. journalism you've been reading here.
Not ready to commit to a membership? That's OK! If you want to help in a smaller way, you can buy me a coffee. :)
---
Reach out
What story do you want to see simplified? Falling for something local? Send any news tips, attaboys, missed typos or Fourth of July party invites to megan@sfsimplified.com.
---
Thank you
Thank you to Sioux Falls Simplified sponsors, including The Breaks Coffee Roasting Co., Sioux Metro Growth Alliance, Selah Space and Silverstar Car Wash. When you support them, you're also supporting Sioux Falls Simplified.
Correction: The group behind the Sioux Falls fireworks display was previously misstated. The display is presented by a local nonprofit called "Sioux Falls Fireworks and Community Events.