Simplified: The Great Plains Zoo and the Butterfly House & Aquarium are joining forces to create one big destination in the city. But the big future vision doesn't stop once they're combined as the Sioux Falls Zoo & Aquarium. Here's a look at the plan for the next decade.
Why it matters
The merger is effective as of January 2023, but it'll take another couple years before the two nonprofits live on the same campus at what's now the Great Plains Zoo.
The big plan between now and 2025 is to create a larger aquarium space and a new butterfly rainforest, as well as expanded staff spaces to accommodate workers needed in the new facility, zoo CEO Becky DeWitz told City Council on Tuesday.
The newly-named Sioux Falls Zoo & Aquarium will have a grand opening in 2025. And the plan is to keep adding a new exhibit or improving an existing exhibit once a year through 2031, DeWitz said.
"We think that we can better serve our community, our animals and our staff through this merger," she added.
What are some of the other improvements or expansions planned?
DeWitz didn't get into too many specifics during her presentation Tuesday, but she did share a few hints at the phases of renovation and expansion between now and 2031.
Phase one is the merger and rebrand between now and 2025.
Phase two is a "reZOOvenation," with graphics of penguins, monkeys, owls and some type of clip-art-y fox or red panda.
Phase three is the complete Africa expansion.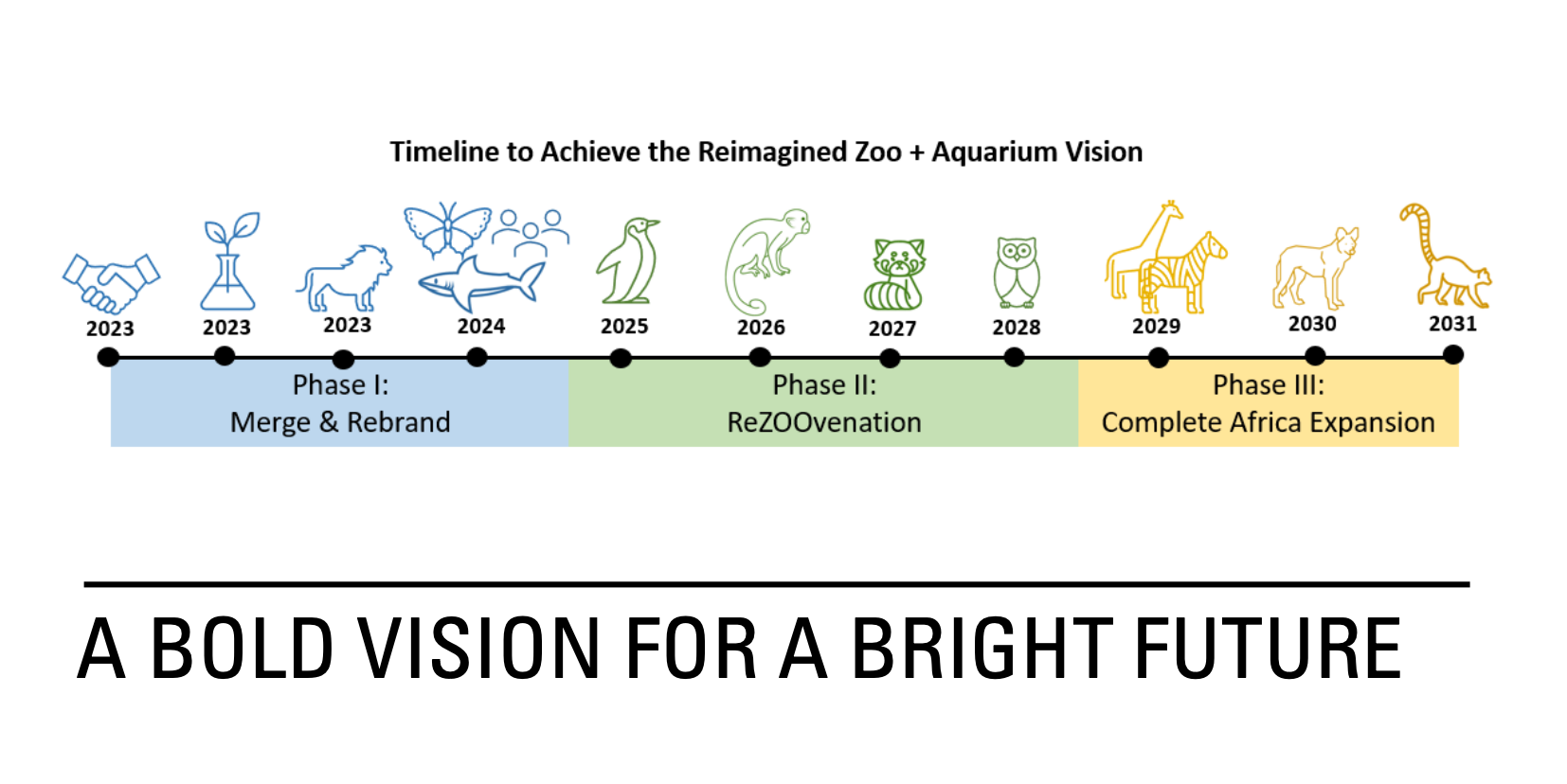 The zoo has also announced construction on its planned new lion exhibit will start in 2023.
That'll also happen alongside construction of a new educational center, per the timeline DeWitz shared.
So what's next for the current Butterfly House & Aquarium location?
It's looking like that'll be a decision for the city.
The building is on land leased from the city. Parks Director Don Kearney explained the lease agreement to council Tuesday, saying that if the lease agreement is ended, the building goes to the city.
"We've been going through the building with staff, brainstorming about how that could potentially be used," Kearney said. "Indoor recreation space is something (residents in) the city have told us they want to see more of."