Happy Thursday! Megan here.
Weather check: Seemingly endless wind (with some end in sight).
Status check: Three days in a row of Simplified in your inbox. Newsy week! Hanging in there?
This morning, I'll tell you about what voter turnout tells us about the election this week. You'll also learn about a local college student's effort to promote native prairies and landscaping, and you'll see the latest price tag on the city's water reclamation project.
And now, news:
What voter turnout tells us – and what questions we're still asking
Simplified: Voter turnout in Tuesday's election was the lowest it's been since at least the mid '90s. Sioux Falls Simplified took a deep dive into the data to see what we can learn and how turnout varied throughout town.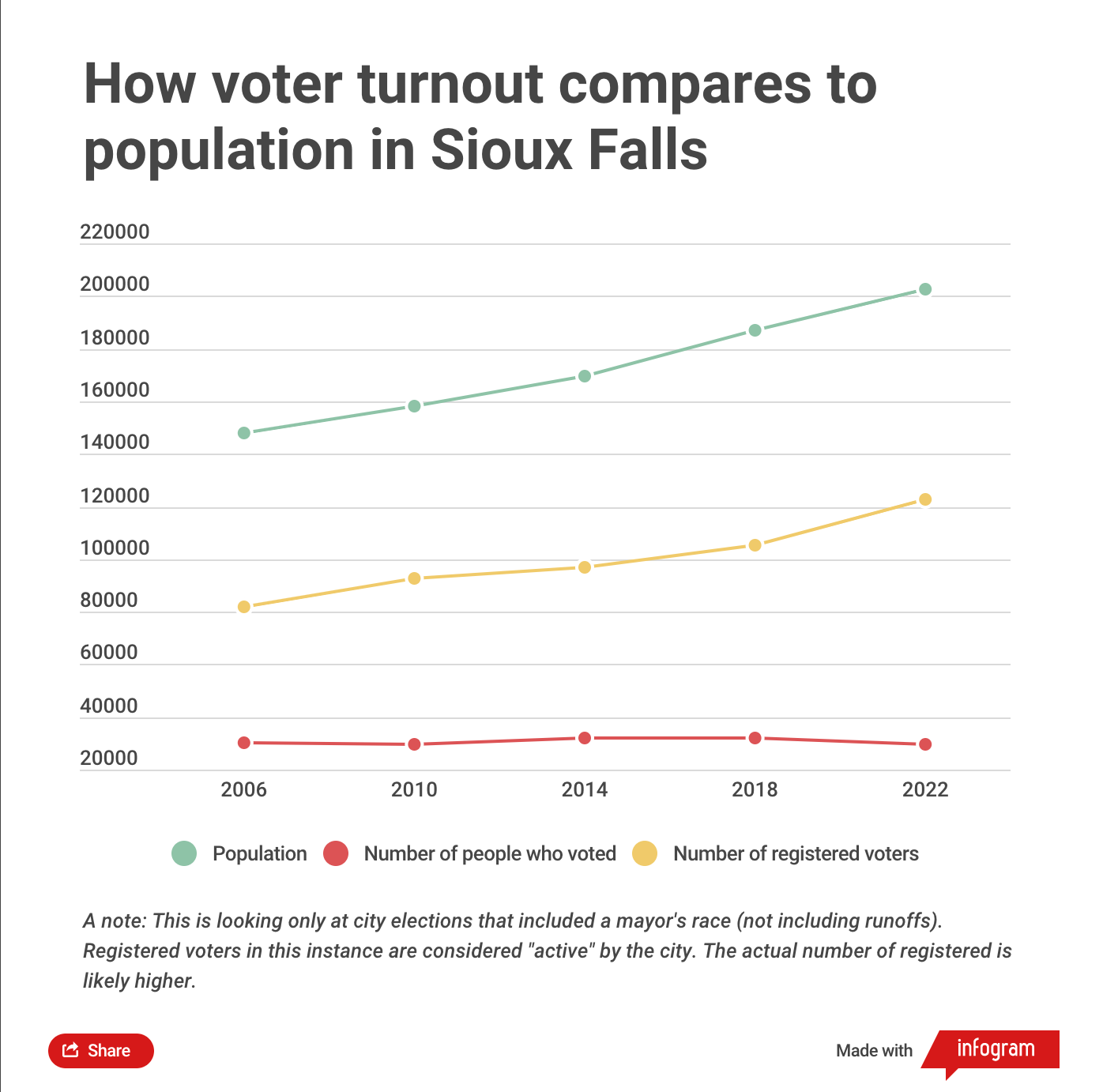 Why it matters
Voter turnout varied widely from precinct to precinct. A couple of precincts saw turnout as low as 4 percent, ranging all the way to 42 percent for the two most active precincts.
Though Sioux Falls has grown, the number of voters has not kept pace with population growth. (See graph above.)
That means that as the city grows, the number of people making decisions on its elected leaders has stayed about the same, according to Sioux Falls Simplified analysis of city election data over the last five mayoral races.  
Looking closer at turnout data allows us to form hypotheses and ask further questions about why people in some areas are voting more – as well as what reasons or barriers might be causing some people to vote less.
"I'm looking at the voter turnout, and it is a very difficult thing to really wrap your arms around to figure out why we have the trends that we do," City Clerk Tom Greco said.
What other observations can be made in voter turnout data?
And what do we do with this information? More here.
---
This student wants to help you bring native grasses and flowers to your yard
This sustainability series is made possible by the support of Friends of the Big Sioux River. They're celebrating Earth Day with the Big Sioux Brew and a river clean-up event. Details here.
Simplified: An Augustana student has created easy-to-use kits to help people create plots of native prairie – including native grasses and flowers – in their backyards throughout the city. Meet Mia Werger.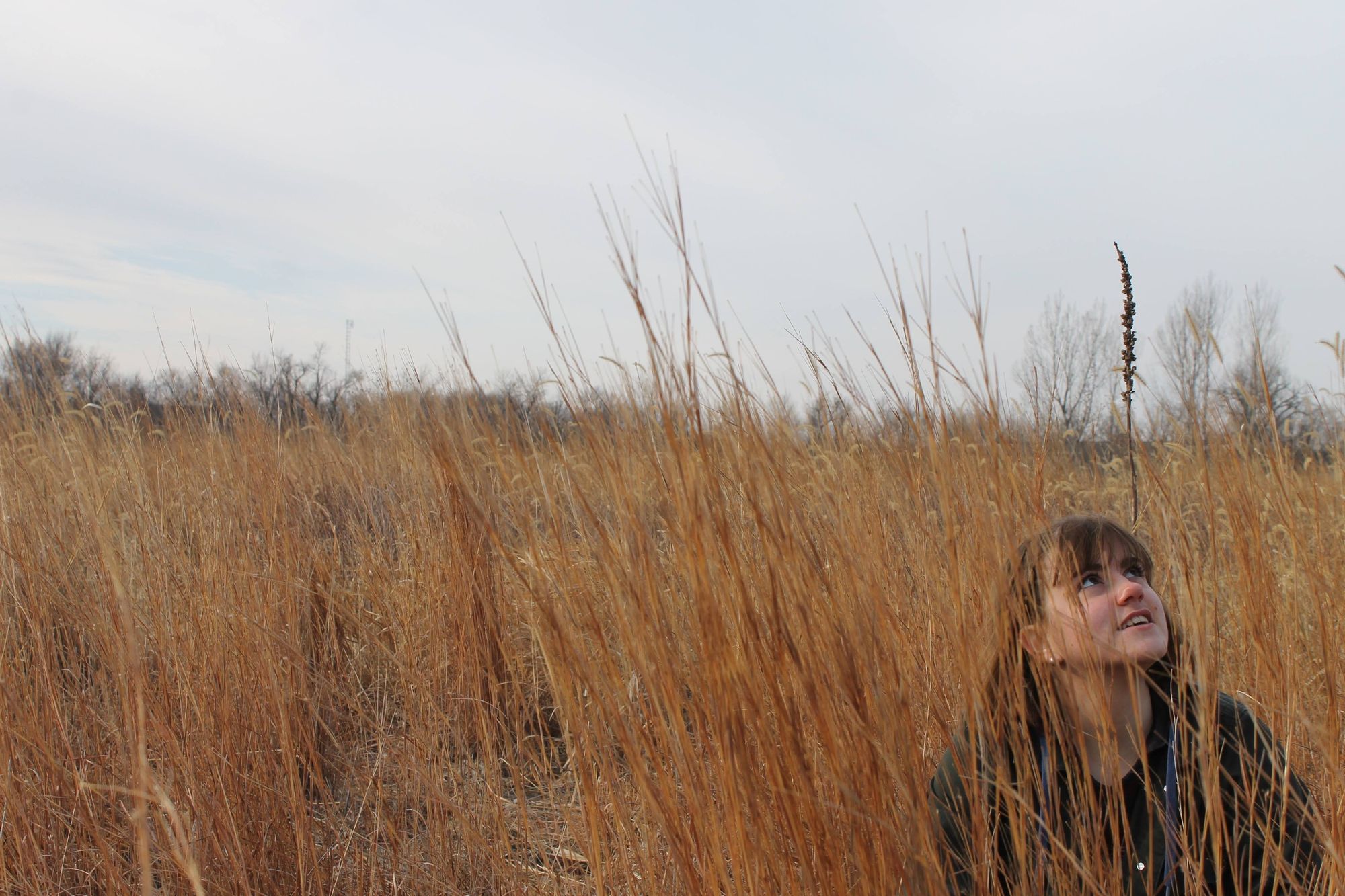 Why it matters
The prairie is an important part of our ecosystem, and even small plots of native grasses and flowers can help get nutrients to the soil, sequester carbon and prevent flooding, Werger said.
Compared to the typical short lawn grass, longer prairie grasses and flowers require less maintenance, less watering and have deeper roots to help the soil soak up more water and nutrients.
Werger knows she's far from the only person thinking about prairie restoration, but she wanted to find a way to make it really easy for people to play a role in that process.  She said she gets asked by people how they can do more with their lawns to help prevent climate change.
"I just wanted to see how easy I could make it for people to take even a tiny section of their lawn and make it into something that would be beneficial for the environment," Werger said.
Tell me more about Mia
And learn about the future plans for her project here.
---
Super simplified stories
Attorney General Jason Ravnsborg impeached. The South Dakota House of Representatives voted by a narrow margin to impeach the attorney general earlier this week. The Argus Leader has the story.
50 people became naturalized citizens in Sioux Falls Friday. It was the first in-person naturalization ceremony in town since the pandemic. Keloland has the story.
Phillips Avenue road remodel delayed until 2023.  Planned improvements to two blocks of downtown Phillips Avenue have been delayed due to anticipated challenges in getting supplies and cost increases, City Engineer Andy Berg told City Council Tuesday afternoon. The project had previously been expected to be done this year.
Council approves USD Discovery District funding. City Council on Wednesday gave final approval to a plan to give $3.5 million to support the USD Discovery District as it looks to build a building to attract tenants to the research park.
---
How the cost of the water reclamation project increased by $56 million
Simplified: Expanding the city's water reclamation plant is going to cost about $56 million more than expected when the project was first announced in 2018.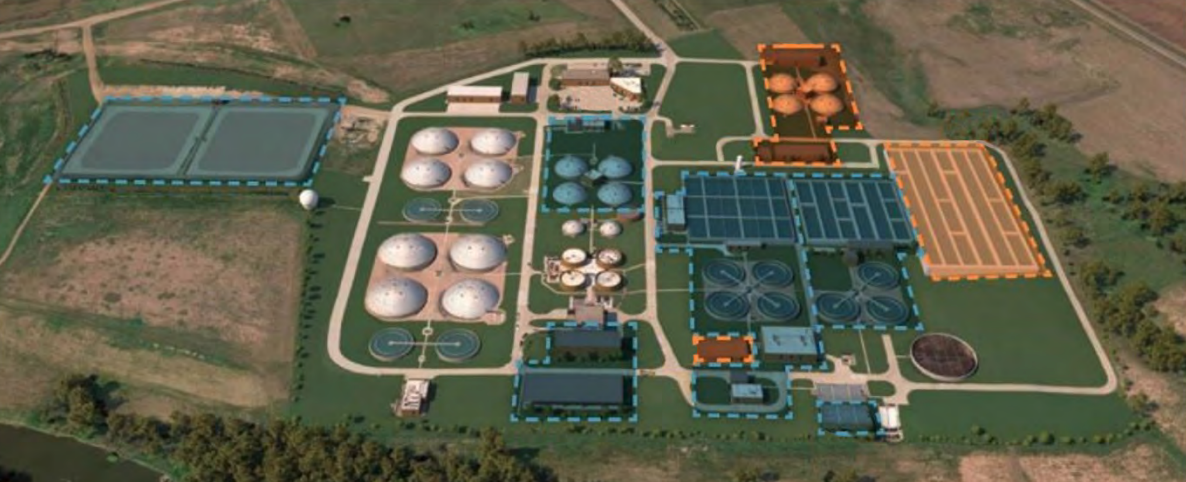 Why it matters
The expansion to the treatment plant will allow the city to keep up with a growing population both in Sioux Falls and the region, said Mark Cotter, director of public works.
The project will expand the treatment center's capacity by 50 percent, from 20 million gallons per day to 30 million.
In the four years since the initial project plan, costs have gone up substantially, Cotter said.
That's due largely to: supply chain issues, increased material and labor costs, and inflation. Even since the last time the City Council was updated in January, there was another 5 percent cost escalation, he added.
"The escalation in price is largely contained in ARPA ( the American Rescue Plan Act, i.e. federal COVID-19 relief) funds," Cotter said.
Where will the extra money come from?
---
THIS AND THAT
Stuff to do:
Hunt for eggs. DTSF, Inc.'s fourth annual egg hunt encourages people to explore local shops and collect candy-filled eggs and other goodies. It runs 10:30 a.m. to 3:30 p.m. Saturday. Get the details here.
Hunt for more eggs. The Good Earth Farm is hosting an egg hunt starting at 1 p.m. Saturday. Details here.
Skate with the Easter bunny. Skate City is hosting an "eggstravaganza" on Saturday, including candy, chances to win prizes and an opportunity to skate with the holiday bunny himself.
Choose tacos and beer over eggs. Severance Brewing is hosting taco night from 5 to 8 p.m. tonight with live music starting at 7 p.m. More here.
---
What I'm falling for this week:
Election night pizza (a newsroom tradition, even in a newsroom of one)
Summer hours at The Breaks
---
Become a member
Has Sioux Falls Simplified made you feel smarter about where you live? Consider buying in to a smarter Sioux Falls by becoming a member and offering financial support to the no B.S. journalism you've been reading here.