Happy Wednesday! Megan here.
🎉 It's party time. Why? Because Sioux Falls Simplified is ONE YEAR OLD! The first issue of this newsletter launched Feb. 3, 2021. The email went to about 180 people.
Now, this newsletter goes to more than 2,250 people each week! And the plan is to keep on growin'. I wrote out some of my year two goals in my New Year's resolution post a few weeks back (check that out here), but the biggest goal is this:
Help more people feel smart about the forces that shape our Sioux Falls community.
Oh, and I almost forgot – another important way to support Sioux Falls Simplified is to offer feedback. If you fill out this survey by Friday, Feb. 5, you'll be entered to win a dozen donuts from Flyboy Donuts. 🍩
This week, I'll tell you about the new framework Sioux Falls public schools are using to determine everything from professional development for teachers to which reading program your kid uses. You'll also learn why now is the time to start paying attention to 2022 elections, and I asked the National Weather Service to play Punxsutawney Phil.
And now, news:
This new 'umbrella' framework will help teachers make decisions about your kids
Simplified: Sioux Falls schools have a new way of looking at everything from how students score on math tests to setting teacher schedules. It's called the multi-tiered system of supports, or MTSS.
Tell me more
Superintendent Jane Stavem said early on in her tenure that she wants to make Sioux Falls the best district in the nation.
To that end, MTSS is a way to take everything the school district does and put it into the same big system.
Picture an umbrella. MTSS is the umbrella, and it covers everything from academics to interactions between teachers to communication with parents.
Why it matters
The goal isn't to change everything school officials, teachers and students are doing day in and day out, said Kristy Feden, director of special services
MTSS isn't unique to Sioux Falls, and it also isn't a new concept in education. Parts of today's framework date back to the mid-90s.
But the current evolution – i.e. the umbrella image – is new to the district in that it's taking all of the existing things the district does to support students and putting them into a clear, defined, shared system.
"It's how we're going to move the needle for all kids in this district," Feden said.
So, what goes into MTSS?
And what does it mean for students? Read more here.
---
Why now is the time to key in to the 2022 local elections
Simplified: If you're into politics – and even if you're not – it's hard to avoid talk about the 2022 Midterm elections, and, of course the gubernatorial election in South Dakota. But, those aren't the only issues on the ballot this year. Here's why now is the time to start paying attention to the April municipal election.
Why it matters
There's the obvious "why voting matters" answer about your right to vote, civic engagement and participating in a democracy so your voice can be heard. That's all part of it, but now is also the time to reflect on who should be on the ballot in the first place.
Right now, people who want to be in a public office are going around asking for signatures of registered voters – essentially a signal that the community is behind this person seeking office.
And, as City Clerk Tom Greco put it, it's also not too late to decide to run yourself if you want to be the person representing the community on the Sioux Falls City Council, as the city's mayor or on the Sioux Falls School Board.
"Now is the time to get involved," Greco said, "whether it's researching candidates or even deciding if you yourself are going to run."
The election isn't until April. How can I get involved now as a voter?
Here are three options for you.
---
How federal relief funds helped expand broadband access in the region
This is a paid piece from Midco.
Simplified: More than 400 homes in southeastern South Dakota now have high-speed broadband access thanks to both Midco and federal coronavirus relief funds.
Why it matters
Reliable internet is a necessity, especially as an increasing number of people shifted to working from home amid the pandemic.
The federal CARES Act included funding for increasing internet access among those who didn't previously have it. Gov. Kristi Noem distributed those funds through the ConnectSD Broadband Grant program.
Midco received two of the grants, and those funds helped bring connectivity to areas that previously lacked adequate internet access. That's in part because rural areas are harder for providers to serve cost effectively, according to Midco Director of Government Relations Andrew Curley.
"That's where a good public-private partnership like ConnectSD is helpful to serve areas that providers, like Midco, may not have otherwise been able to," Curley said.
Tell me more about each project
---
TL;DR
Super simplified stories
More people golfed in Sioux Falls in 2021. Golf just keeps becoming more popular in town. There was an increased demand in 2020 when the pandemic started, and Sioux Falls saw another 25 percent increase in golf season passes sold in 2021 compared to 2020. See the full report given to the City Council earlier this week.
Bus routes reduced again amid driver shortage. For the second time in the last few months, Sioux Area Metro has had to reduce routes because it can't find enough drivers. Find the current route schedule here.
Help shape the library of the future. Siouxland Libraries want your feedback as the library system looks at its strategy for the future. Fill out this survey by Feb. 4 to give your input.
---
Six more weeks of winter? Maybe. But don't worry – it's mild.
Simplified: Sioux Falls has seen fewer snowy days and less snow overall than normal, according to data from the National Weather Service of Sioux Falls. But projections show a potentially wet spring, when the precipitation really matters for farmers in the state.
Why it matters
Even if the groundhog sees his shadow Wednesday, this winter – whether it lasts another six weeks or not – has been mild in Sioux Falls.
It's a bit colder than last year, which was the second-warmest December and January on record, said Mike Gillispie, service hydrologist with the weather service. But this winter's average temperature of 22.4 degrees (again, in that December to January time frame) is still a few degrees above normal.
But what's unique this year is the lack of snow. So far the city has recorded 13.5 inches of snow since October, and the vast majority of that was in one December storm.
"We're over 10 inches below normal as far as snowfall," Gillispie said. "We've just been missing out."
What's the outlook for spring?
And can we expect a spring blizzard? More here.
---
His passion is making dirty cars clean. Meet Noah Epling.
This is a paid piece from Silverstar Car Wash.
Simplified: Noah Epling has been working in the car wash industry since graduating high school, and his passion for making dirty cars clean has flourished in his time at Silverstar.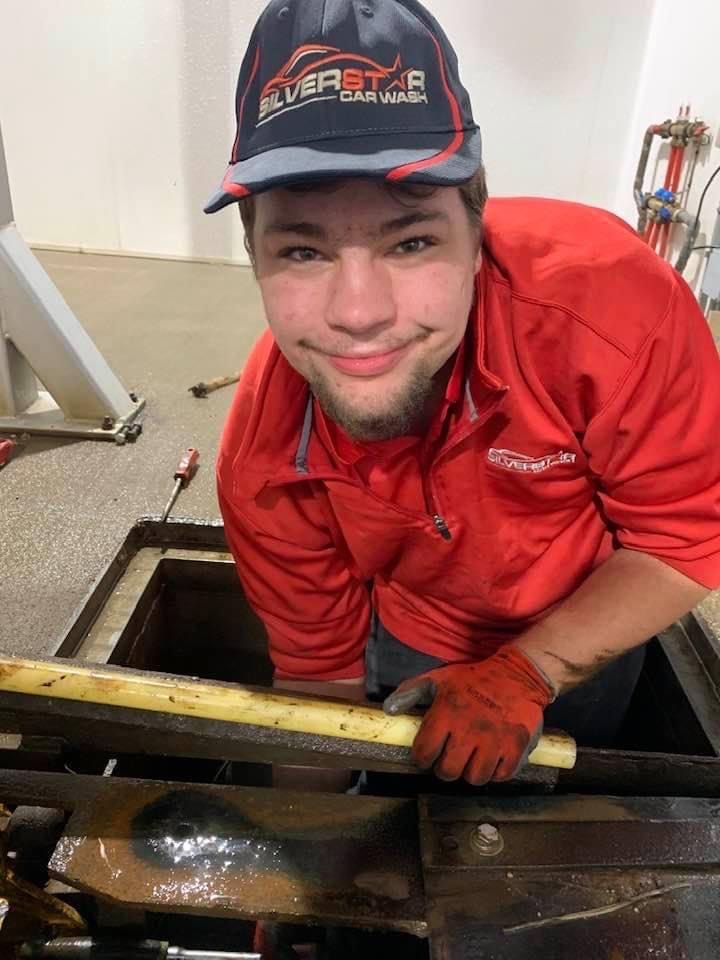 Why it matters
Epling, 22, had experience at two long-time washes in town before they became Silverstar sites. What really attracted him to Silverstar, though, was the team.
Today, Epling is in his third year of working for Silverstar, and he's a preventative maintenance lead at the 26th Street and Sycamore Avenue location. His work ensures the wash functions up to the standards of both management and, of course, Silverstar customers.
Beyond the work, though, Epling thrives in his relationships with customers and fellow employees. He said he's even had customers who met him at his first Silverstar job at 26th and Marion who've followed him now to his current location.
"Working with Noah is a blast," said Andrea Vetos, regional manager for Silverstar. "You'd be hard-pressed to find someone who is more passionate or excited about car washing than he is. You can count on Noah to hold the team and the site to a high standard of operation and appearance."
Q&A: Meet Noah
And learn more about Silverstar here.
---
THIS AND THAT
Stuff to do:
---
What I'm falling for this week:
---
Become a member
Has Sioux Falls Simplified made you feel smarter about where you live? Consider buying in to a smarter Sioux Falls by becoming a member and offering financial support to the no B.S. journalism you've been reading here.