Happy Wednesday! Megan here.
First things first, this issue is brought to you by Branch Creative Co.
Branch Creative Co. can help you with brand strategy and design to create a purposeful, unique identity for your business. Owner Melissa Heckel and her team will work with you to construct effective designs and make sure your brand is showing up for your target audience. Learn more and view work samples here.
Weather check: Windy and (possibly) snowy
This week, I'll catch you up on the latest with the city's sustainability goals (and why some folks are not happy about the most recent changes. I've also got a round-up of St. Paddy's Day events and a cool opportunity that could land you on HGTV.
And now, news:
How Sioux Falls' sustainability plan changed in the last year – and why some are concerned
Simplified: Six local organizations – led by nonpartisan climate group SoDak350 – have asked Mayor Paul TenHaken why the latest draft of the city's sustainability plan "removes all meaningful, concrete goals," as quoted from a letter sent to the mayor on Tuesday.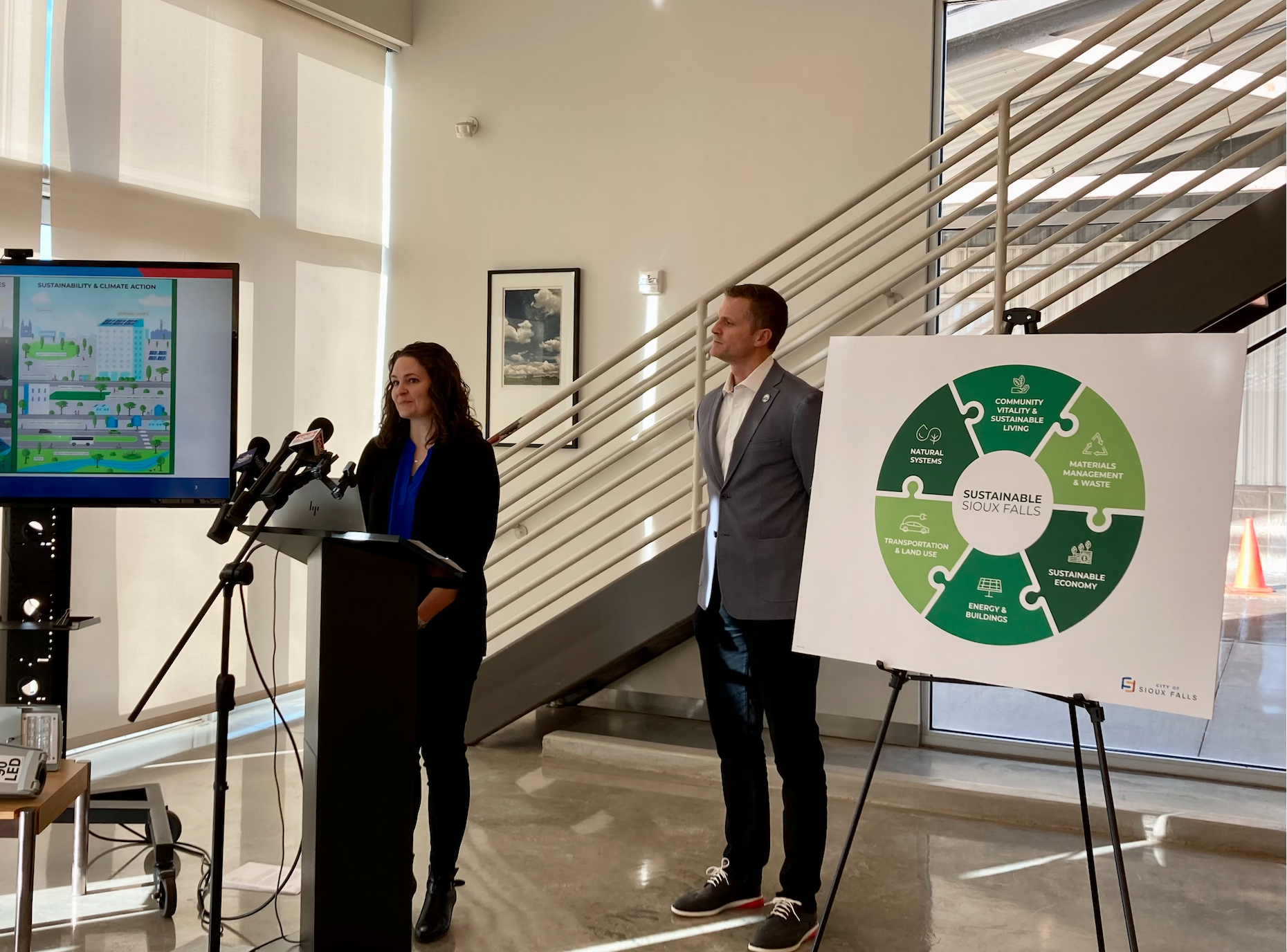 Why it matters
The latest version of the plan removes 31 of the 71 action items approved by a 30-member Sustainability Steering Committee in December. That committee had been meeting since last March.
In March of last year, Mayor Paul TenHaken led a press conference announcing a "Sustainability Climate Action Plan" with a goal to get Sioux Falls to net-zero greenhouse gas emissions by 2050.
A year later, the now-named "Sustainable Sioux Falls Plan" has removed all mentions of "climate change" and "greenhouse gases." The letter sent Tuesday also expressed concerns about an overall "weakening" of the language in the action items.
"We believe that a "plan" which allows the City to hide behind vague platitudes while achieving no meaningful action is ultimately worse than no plan at all," the letter reads.
About the letter, the changes, the mayor's response – it's all here.
---
You could have your home renovated on HGTV
Simplified: A reality home renovation show set in Sioux Falls has been renewed for a second season, and you've got a chance to be featured.
Tell me more
"Down Home Fab" is an HGTV home renovation show featuring Chelsea DeBoer (of "Teen Mom 2" fame) and her husband Cole DeBoer.
Season one of the show started in January, and it features renovation projects completed by the Sioux Falls couple in Sioux Falls homes.
The second eight-episode season is slated to air in early 2024, according to an article from HGTV.
Ok, so how do I get on the show?
You have to meet the requirements casting agency RTR Media are looking for. Find a list of those (and a link to the application form) here.
---
TL;DR
Super Simplified Stories
New homeless outreach program passes first hurdle. City Council unanimously passed the first reading of a new proactive approach to helping unhoused folks. More details here. That program now moves forward for final approval.
New school boundaries approved. Sioux Falls School Board members this week approved a redrawing of boundaries around Rosa Parks Elementary. More details here.
Hear from the youths. Sioux Falls' first TEDx youth event will take place later this month. Fifteen students will share their thoughts on a variety of topics including mental health, connection and the fear of failure. Details and tickets available here.
---
EVENTS
Stuff to do to celebrate St. Patrick's Day
Hit the bars. Essentially every bar in town has some sort of St. Patrick's Day special, from half-price green beers at Severance to live music at Monks to Celtic dancers at Remedy to a whiskey-themed bus ride from McNally's Pub.
Paint the shamrock. The traditional painting of the shamrock will start at 11 a.m. Saturday in front of Mrs. Murphy's Irish Gifts downtown.
Catch the parade. The annual St. Patrick's Day parade is set to start at 2 p.m. and run down Phillips Avenue from 13th Street to Fourth Street. Route details here.
Make your own pot of gold. Juniper Apothecary is hosting an event from 10 a.m. to 1 p.m. Saturday in which you can make your own "pot of gold" bath bomb for $7. Details here.
Celebrate with puppies. Primp Boutique is hosting a "Paws of Gold" event where you can meet some of the pups up for adoption from Almost Home Canine Rescue. (And, bonus, 10% of proceeds go to support the nonprofit). Details here.
---
THIS AND THAT
What I'm falling for this week:
New episodes of Ted Lasso
---
Become a member
Has Sioux Falls Simplified made you feel smarter about where you live? Consider buying into a smarter Sioux Falls by becoming a member and offering financial support to the no B.S. journalism you've been reading here.