Happy Friday! Megan here.
Weather check: Fall-y and potentially frosty
This weekend, I'm coming to you a little later in the day than usual, but I couldn't wait until next week to show you the new grocery store on wheels. You'll also learn how Southeast Tech is helping first-generation college students. Plus, hear from some kids on Mayor Paul TenHaken's youth council, find a roundup of local events and learn more about how you can support local nonprofits through United Way.
And now, news:
Get a look at Sioux Falls' new mobile grocery store
Simplified: A mobile grocery store is ready to hit the road next week, bringing fresh produce and affordable food to areas of town where groceries aren't otherwise accessible. Here's a look at what's to come from the Eat Well Sioux Falls Mobile Market.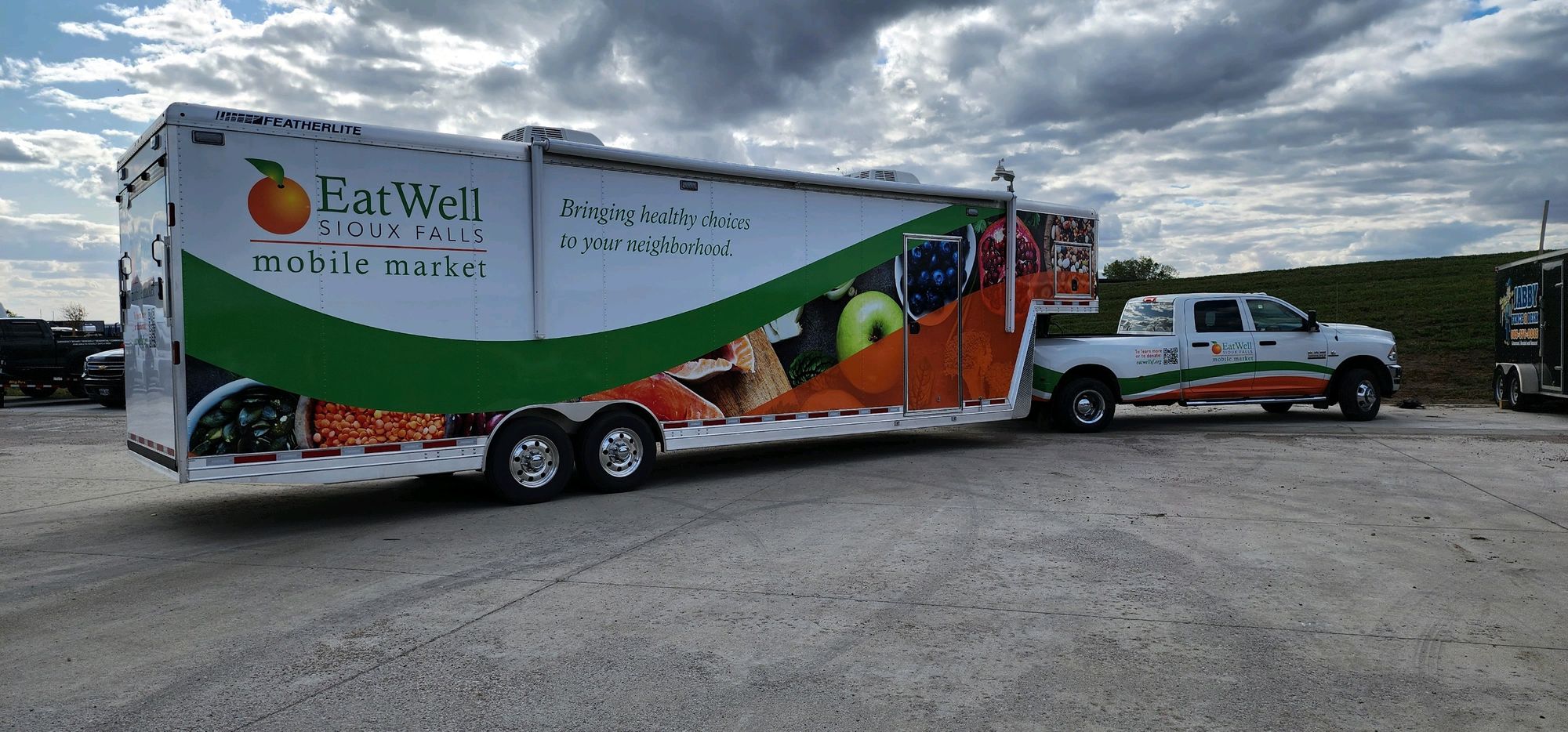 Why it matters
More than 24,000 people in Sioux Falls live more than one mile from a grocery store, according to a study released last summer by the Augustana Research Institute. That makes it hard, if not impossible, for people who don't have a car to access healthy food.
The Eat Well Sioux Falls Market is one piece of the puzzle in meeting that need, Sioux Falls Thrive President Michelle Erpenbach said. It isn't a handout or food giveaway, but rather a way for people to easily and affordably purchase healthy foods in neighborhoods where that otherwise isn't an option.
Groceries will be stocked onto a 30-foot trailer that's equipped with coolers, baskets, shelving. The vehicle also has Wi-Fi, a canopy to cover folks who may be waiting in line outside and handicap accessibility. And the types of food stocked will be in direct response to the needs of the people who shop there.
"We have a really good foundation for what people want, and it's fresh produce," Erpenbach said. "We're going to meet that need."
---
How Southeast Tech is helping first-generation students
Simplified: Southeast Technical College received national recognition last month for its work in supporting first-generation students. Here's a look at how they're helping these students succeed through peer mentorships.
Why it matters
More than 600 of Southeast Tech's nearly 2,500 students are first-generation, meaning they're the first in their family to go to college, and nationally about 1 in 3 college students is first-generation, according to Marcella Prokop, director of access and workforce opportunity.
The college started a pilot program last year to connect new first-generation students with students who've been in their shoes. That program has served 20 people, but the goal is to serve many more and encourage businesses to offer more mentorship as well, Prokop said.
That includes students like Breanna Clark, who is on track to earn a computer support certificate this spring. Clark's experience in the mentorship program inspired her to found a Mindfulness Club with the college to help form even more connections.
"Going to college means a better, more secure life for me and my family," Clark said. "I plan to use this financial stability to support my family as they age and help the wider community."
---
How United Way is preparing for the next generation of giving
This is a paid piece from Sioux Empire United Way.
Simplified: The nature of philanthropy is changing, and with those changes, Sioux Empire United Way (SEUW) is seeing fewer individual donors. Here's how they're looking to reverse the trend – and how you can help.

Why it matters
About 1 in 3 people in the Sioux Empire are helped by a program funded by SEUW. The organization funds 75 programs each year to help children, vulnerable adults and people in crisis.
SEUW had long been able to avoid the national United Way trends of seeing fewer donors, but locally Campaign Director Olivia Essig said the number of donors has gone down significantly in the last decade. It speaks to SEUW's success that they've continued to hit goals, she added, but SEUW is seeing larger donations from a smaller subset of people.
One reason for the decline is the shifting nature of philanthropy in the workforce. Larger corporations are moving away from employee giving models, Essig said, and an increase in remote work makes it harder to reach individual donors.
"We're in the beginning stages of trying to find ways to connect with donors in new ways" Essig said. "Regardless of whether you work in a place that is supporting United Way, you can give."
---
TL;DR
Super Simplified Stories
Pork winnington. Crawford's is the champion of the third annual Downtown Pork Showdown with it's winning dish: pork wellington. Overall, the pork showdown saw 5,700 pork dishes sold for a total economic impact of more than $173,000.
Take back the night. You may have seen the story in Wednesday's issue about the increase in domestic violence in Sioux Falls. The annual Take Back the Night event aims to raise awareness and support for domestic violence victims. It'll take place at 6 p.m. Thursday, Oct. 12 at the Salsbury Science Center on the University of Sioux Falls campus.
---
Meet the kids helping advise the mayor
Simplified: Mayor Paul TenHaken has selected a group of 16 Sioux Falls high schoolers to serve on his 2023-24 Mayor's Youth Council.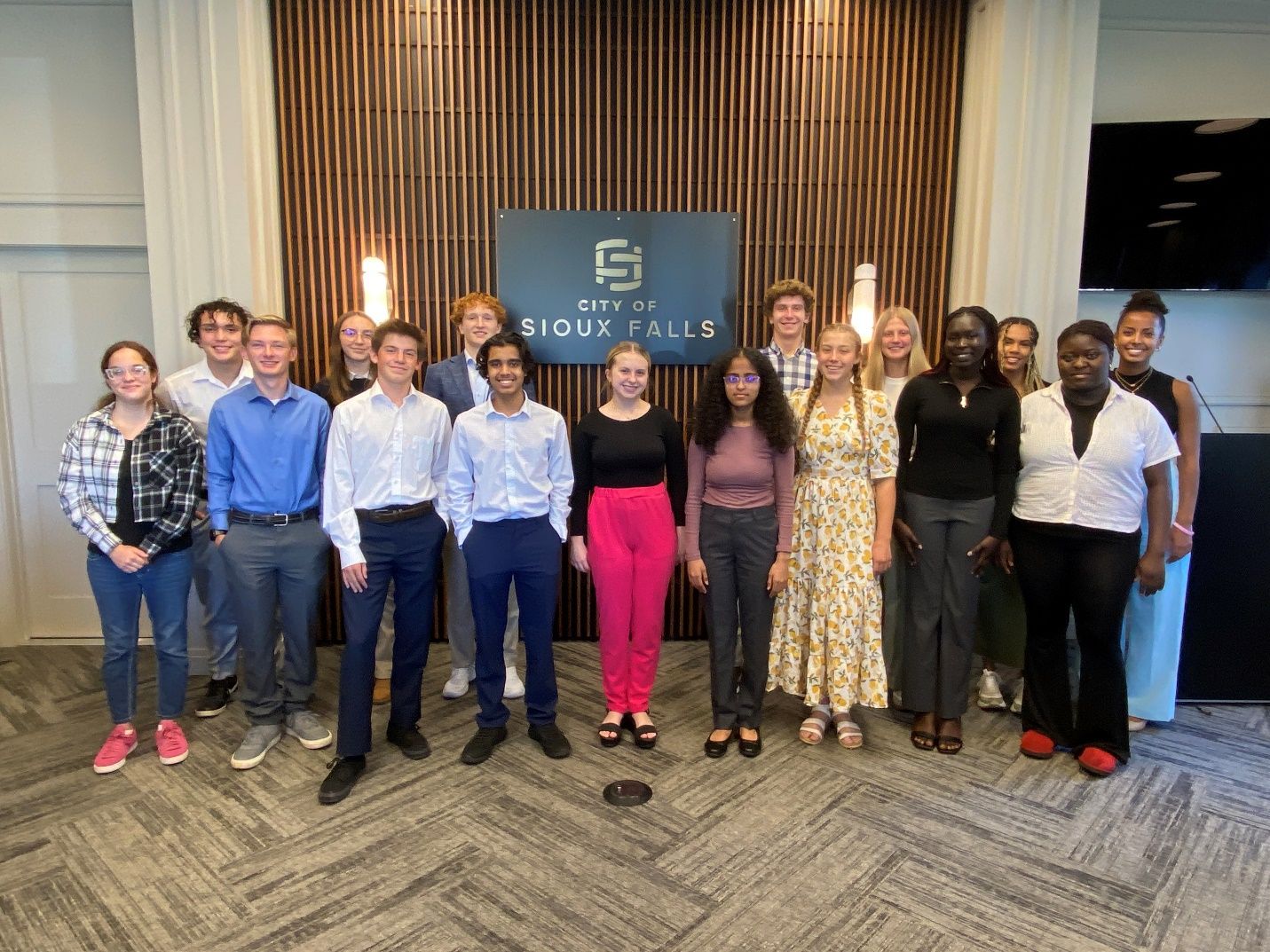 Why it matters
The goal of the council is to give these kids a chance to share input on community issues, learn about local government and develop leadership skills. This year marks the third year of the program.
The students selected will also get a chance to meet city officials, learn how the various city departments work and tour facilities like the new public safety training campus, the landfill and the water purification plant.
Student Alanna Smith, one of three kids returning for a second year on the council, said she applied to join because she wanted to ensure her voice was heard on issues that are important to her.
"I want my voice to matter," Smith said. "I knew that the council would allow me to learn about how Sioux Falls is governed and how we as youth can influence the community with our perspective."
"Adults often times tend to overlook kids and their opinions, but I really do believe we have a lot to contribute to society," council member Siyanne Redda said. "I am very engaged in social activism and love finding ways to allow those that are overlooked a chance to speak up."
---
---
ICYMI
More simplified news
---
THIS AND THAT
What I'm falling for this weekend
---
LIKE SIMPLER NEWS?
How to help Sioux Falls Simplified
Has Sioux Falls Simplified made you feel smarter about where you live?
Here are a few ways to ensure this smarter, easier local news outlet is here to stay:
Become a member. Consider buying into a smarter Sioux Falls by becoming a member and offering financial support to the no B.S. journalism you've been reading here.
Give a one-time gift. Not ready to commit to a membership? That's OK! If you want to help in a smaller way, you can give a one-time gift via buy me a coffee. :)
Advertise with us. Tell the "simplified" story of your business to your target audience. Want more info? Reach out to Sales & Socials Director Olivia Bertino at olivia@sfsimplified.com or check out our media kit.
---
Reach out
What story do you want to see simplified? Falling for something local? Send any news tips, attaboys, missed typos or birthday beers to megan@sfsimplified.com.
---
Thank you
Thank you to Sioux Falls Simplified sponsors, including the Sioux Falls Development Foundation, Sioux Empire United Way, the Sioux Falls Area Community Foundation, Barre3 Sioux Falls, Midco, the Great Plains Zoo, the Sioux Metro Growth Alliance and Voyage Federal Credit Union. When you support them, you're also supporting Sioux Falls Simplified.