Simplified: The Harrisburg School District is asking voters to pass a $30 million bond to fund construction of a new elementary school, as well as some updates to South Middle School. Here's what you need to know.
Why it matters
The Harrisburg School District is one of the fastest growing in the state, and this year, Superintendent Tim Graf estimates seeing about 6,000 students. (For comparison, in 2012 enrollment was fewer than 3,000 students, and back in 2002 it was fewer than 900 students.)
The district has already purchased land to build the new school, which would be south of South Middle School on the west side of Cliff Avenue, "a little past where the pavement ends," Graf said.
If the bond passes, many of the students currently at Liberty Elementary would move to the new building, and Liberty Elementary would be largely repurposed and used, in part, by the City of Harrisburg as a sort of community center.
"We would try to provide programming for all ages, from young kids to senior citizens," Harrisburg City Councilman Kevin Maxwell said. "It's a win-win for both the school and the city."
Isn't Harrisburg already building a couple new schools?
Yep.
Voters last year overwhelmingly approved a $60 million bond to fund construction of a new middle school and a new freshman academy (which will eventually be added onto and become a second high school).
The new middle school (shown above) is being built near the intersection of 69th Street and Southeastern Avenue on the southeast side of Sioux Falls.
The new freshmen academy (and future high school, shown below) is located at the southwest corner of 85th Street and Cliff Avenue.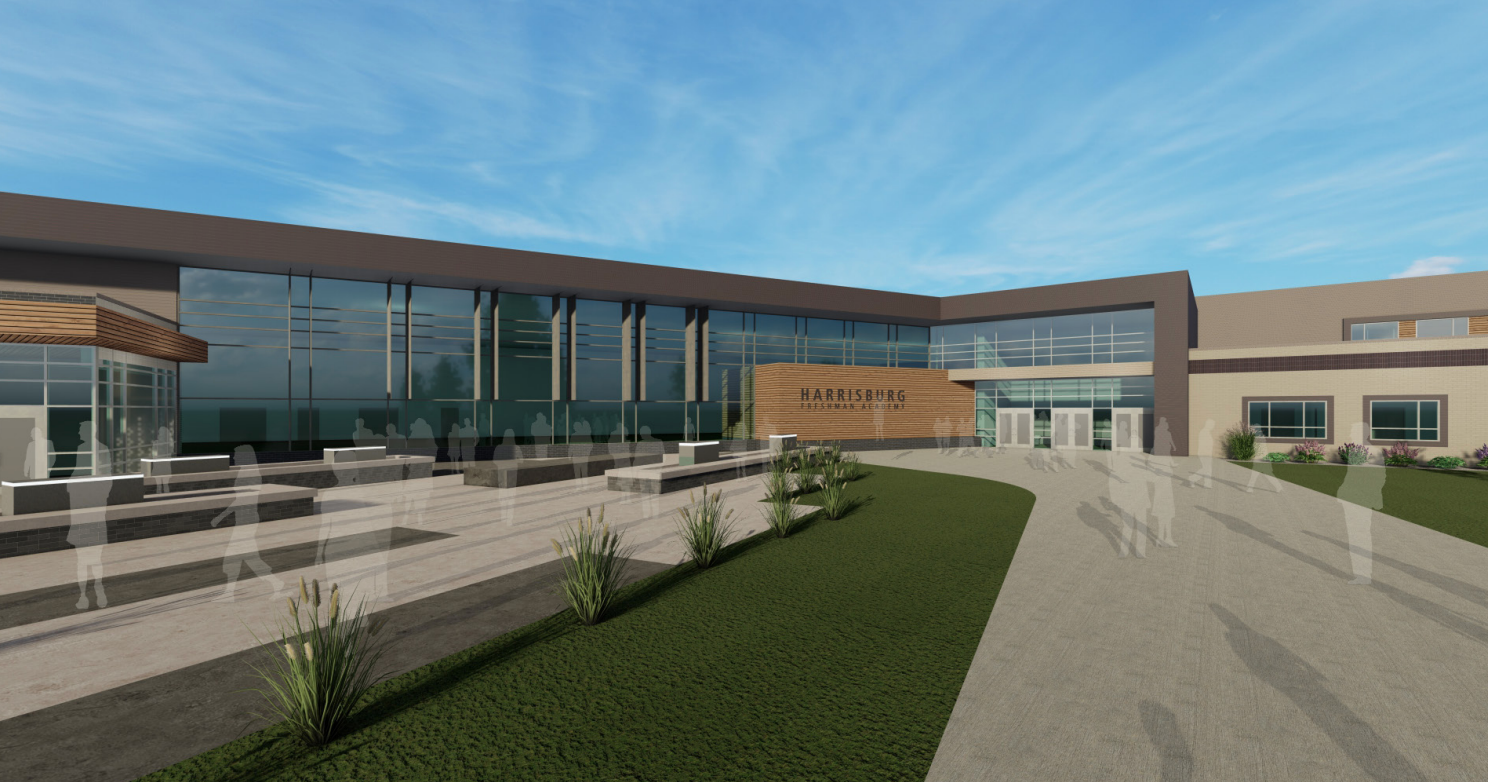 Graf said the middle school construction got started last fall, with construction on the freshmen academy starting soon after.
What would this $30 million bond fund?
The new elementary school is expected to cost $24 to $26 million, Graf said.
If that all goes to plan, the goal is to have money left over to add some improvements to South Middle School, including a new track and updates to the cafeteria and kitchen.
There are also hopes that the bond could fund a garage for school buses, Graf said.
What do I need to know about the election?
You can only vote if you live in the Harrisburg School District.
Election Day is Tuesday, Sept. 27. Polls will be open 7 a.m. to 7 p.m.
Residents of Sioux Falls and the Delapre Township will vote at North Middle School.
Residents of Harrisburg and the Springdale, Dayton, LaValley and Perry Townships will vote at Liberty Elementary.
Early voting in-person is available at either the Harrisburg district office or North Middle School from 8 a.m. to 4 p.m. Monday through Friday starting Sept. 13.
Voting by mail is also an option. Print this application and mail to Business Manager, P.O. Box 187, 200 E. Willow St., Harrisburg, SD, 57032.