Happy Wednesday! Megan here.
Weather check: Oh there's winter.
The giving season is upon us, and you'll hear from me more this month on why you may want to consider supporting Sioux Falls Simplified. Don't hesitate to reach out to learn more, and, if you've been waiting for a sign that you should support local news ...
🙏 Also, THANK YOU to those who've already contributed. There's the meme about small business owners doing a little "happy dance" whenever they see support, and that's so, so true for me, too.
This week, I'll explain why you're hearing more conversations about food deserts in the wake of Hy-Vee closing a location. I'll also introduce a new program at Washington High School that's helping kids manage mental health and post-graduate planning as well as a new (old) program to preserve building façades.
And now, news.
COMMUNITY
Why fixing food deserts will take more than a new grocery store
Simplified: When Hy-Vee announced it was closing its 10th Street and Kiwanis Avenue location, some expressed concern about food deserts. But nonprofit leaders and researchers alike say the issue of food deserts and food insecurity – i.e. hunger – is more complicated than the geography of grocery stores.
Why it matters
Hy-Vee's store closure leaves only two traditional grocery stores north of 12th Street in Sioux Falls. That's about one store for every 27,000 people living in that part of the city.
Compare Sioux Falls south of 12th Street, a segment of town where there are fewer than 10,000 people for every grocery store, according to analysis from Sioux Falls Simplified. (This number doesn't take into account member-based stores like Sam's Club and Costco.)
But the location of grocery stores is only one factor in the broader picture of food security.
"Yes, you want the groceries to be convenient, but it doesn't matter how close they are if you can't afford them," said Suzanne Smith, who leads the Augustana Research Institute, which put out a 2018 report looking at food security in town.
See the broader picture here, along with some possible solutions in the community.
---
EDUCATION
How Washington High is helping kids with mental health, career planning – 24 minutes at a time
Simplified: Washington High School's counseling team has a new way to help students in the areas they need most in short, accessible, 24-minute seminars called "Warrior 24."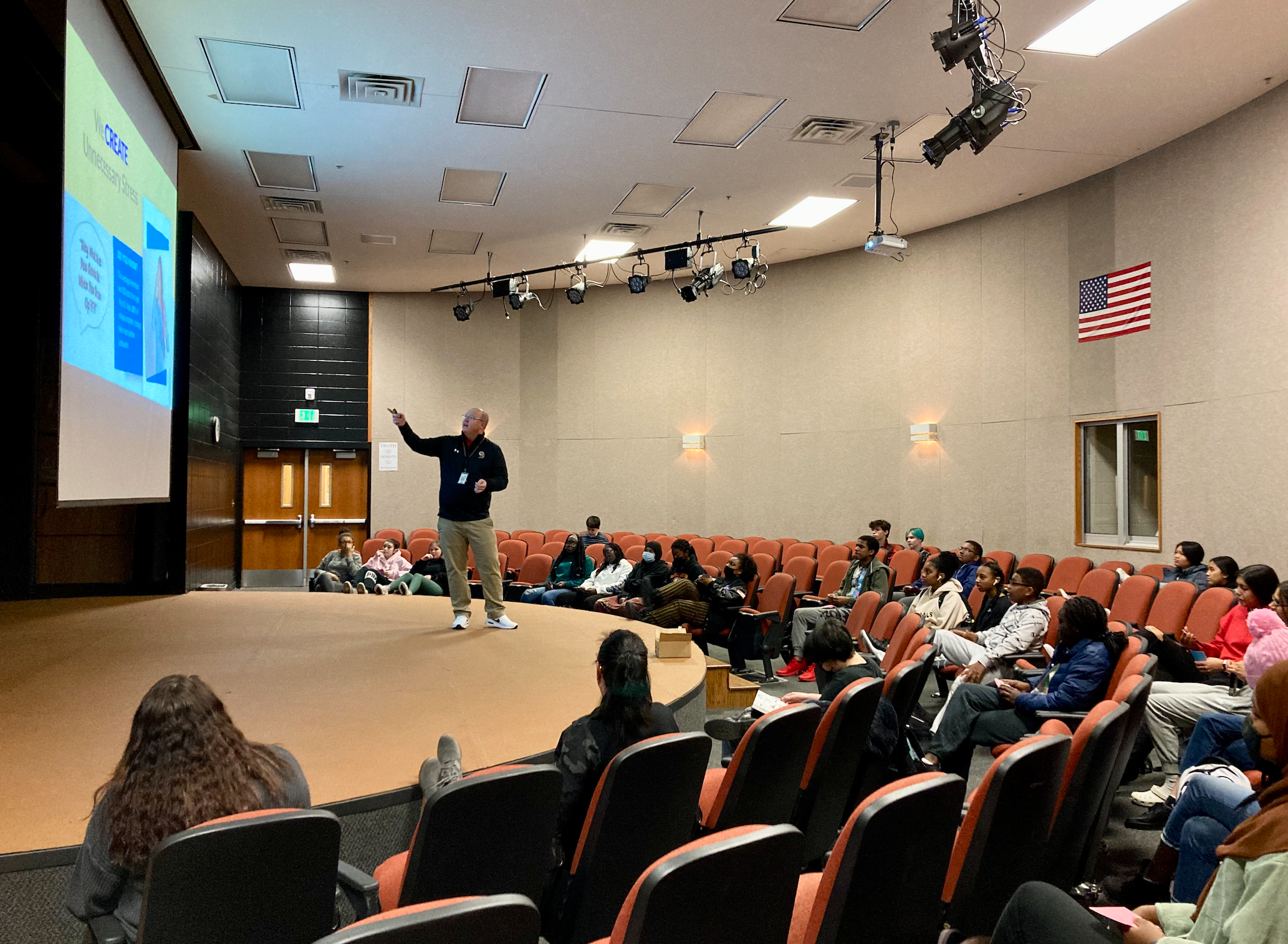 Tell me more
Washington's counseling department, led by chair Travis Sieber, started Warrior 24 this year. New scheduling at the school opened up a segment of the day where all students have either lunch, study hall or a free period.
And it lined up with a good amount of time to capture a high schooler's attention span, Sieber added.
The 24 in the name represents the 24-minute sessions covering 24 topics over the course of 24 weeks.
Topics come from the result of a school-wide survey from the spring, in which students said some of their top needs were managing burnout, and college and career advice.
Why it matters
The Warrior 24 sessions are a way for students to get quick, practical tips for everything from managing anger to narrowing their focus in choosing a career.
The sessions are also a way for the counseling department to reach students and let them know about resources available to them.
Between 50 and 60 kids gather weekly, Sieber said, and for students like Destiny Taylor, the program is already making a difference.
"It's given me more thought on what I actually am meant for, what I'm good at and seeing what I can put my skills to," the 15-year-old sophomore said.
What's a typical session like? And what happens next?
---
SIMPLIFIED PRESENTS
Your guide to Christmas shopping in the Sioux metro
This is a paid piece from the Sioux Metro Growth Alliance.
Simplified: 'Tis the season for holiday shopping, and it's not hard to find something for everyone without leaving the metro area. Here's a gift guide that'll help you spend local while crossing everyone off your shopping list.
Why it matters
Shopping at local businesses keeps more money in the Sioux Falls-area economy.
It's also a way to support local businesses in a way that's mutually beneficial. They feel your support, and you find gifts for the people in your life.
"Small businesses have had a tough couple of years, and this time of year they especially need your support," said Jesse Fonkert, president and CEO of the Sioux Metro Growth Alliance. "It's a win for everybody when you shop locally and keep your holiday spending in the Sioux metro economy."  
---
TL;DR
Super simplified stories
Liquor licenses just got pricier. City Council voted Tuesday to raise the cost for businesses to obtain a liquor license. On-sale liquor licenses will now cost $240,646 (up $48,286), and a liquor license for a full-service restaurant will now have an initial fee of $192,517 (up $157).
Open enrollment begins for next school year. The Sioux Falls School District open enrollment started Dec. 1, and applications can be submitted online or in-person.
---
CITY
Council brings back program to preserve building façades
Simplified:  The Sioux Falls City Council voted Tuesday to bring back a façades easement program – essentially a way to preserve the historical character of buildings in the city's core.
Why it matters
The vote Tuesday passed a resolution to take $120,000 out of the streets' five-year capital budget and move it to a new core façade revitalization project.
It's not really a new project, though. Sioux Falls for years had a façade easement program in place to help offset the costs to building owners for the upkeep of their historic building façades.
The plan saw unanimous support from the council as well as vocal support from a couple of building owners who gave their input ahead of the vote.
"This resolution (funds) a program the city has that was very successful," said Councilor Curt Soehl, who co-sponsored the resolution with Councilor Christine Erickson. "And now we're going to breathe some new life into it."
How does it work? And what happens next?
---
THIS AND THAT
Stuff to do:
Spread some cheer. Beautique in Brandon is organizing gift donations for residents at Bethany Meadows in a "Santa for Seniors" event. More details on how to participate here.
Give Good Night a listen. The Good Night Theater Collective's annual Yuletide Cabaret is bringing holiday tunes to the Washington Pavilion starting 7:30 p.m. Thursday and Friday. Tickets here.
Drink coffee, buy books. REACH Literacy is hosting a pop-up book sale at The Source from 9 a.m. to noon on Saturday.
See Santa. Ol' St. Nick has a busy weekend in Sioux Falls. You can catch him Saturday at Elegant Mommy, Lewis Drug, the Washington Pavilion, Calico Skies and his usual holiday spot at the Empire Mall.
---
What I'm falling for this week:
---
Ask me about the Simplified Welcome Guide
This will come out early next year as a one-stop resource for information on the forces shaping Sioux Falls from information on how local government operates to community resources to city history to "Sioux Falls-isms" that show the local culture.
Ask me how your business can get involved. Just reply to this email, and I'll send you more info.
---
Become a member
Has Sioux Falls Simplified made you feel smarter about where you live? Consider buying in to a smarter Sioux Falls by becoming a member and offering financial support to the no B.S. journalism you've been reading here.