Happy Wednesday! Megan here.
First things first: This issue is brought to you by Mount Marty University.
Mount Marty University is a small, Catholic, liberal arts university in Yankton. Their faith-based learning community inspires students to develop their strengths and passions personally and professionally. Learn more here (or check out scholarships, find upcoming events or apply).
Weather check: Welcome to spring! Don't put your winter boots away just yet.
A coffee for your thoughts?: I'm looking to learn more about you so this newsletter can better serve you. And, as a thank you, if you fill out the survey you'll be entered to win a SF Simplified tote bag and a $25 gift card to the local coffee shop of your choice.
This week, you'll see the findings of a recent research effort looking at barriers to mental health support in Sioux Falls – I try to keep things "simplified," but this is one of those topics where I'll really encourage you to read the full story as there's no simple answers here. I've also got an explanation for why the city wants to add more zoning options for developers, and you'll find a bunch of Super Simplified Stories.
And now, news:
Why people struggle to find mental health support in Sioux Falls
Simplified: A lack of providers, transportation challenges and the lingering effects of the COVID-19 pandemic are some of the barriers people in Sioux Falls face to finding adequate mental health care, according to a study released Tuesday by the Augustana Research Institute.
Why it matters
The goal of the research – commissioned by a number of local nonprofits in the mental health space – was to get an understanding of the current state of mental health resources in Sioux Falls.
While the study notes that Sioux Falls has a large number of resources available for mental health, it also finds that the COVID-19 pandemic put a tremendous strain on those resources.
There's also a lack of providers in both Sioux Falls and statewide, and researcher José Cruz Medina said he and his research partner Brianna Pitz were surprised by the needs of local providers.
"Both Brianna and I came into the first few focus group sessions and interviews thinking there were only issues in the community member experience," Cruz Medina said. "To our surprise, the service providers and stakeholders themselves were suffering as well."
What were the findings?
---
How the city is looking to fit more people, businesses in core neighborhoods
Simplified: City planners hope new zoning designations they're proposing will give developers an option to bring more housing and businesses to central Sioux Falls.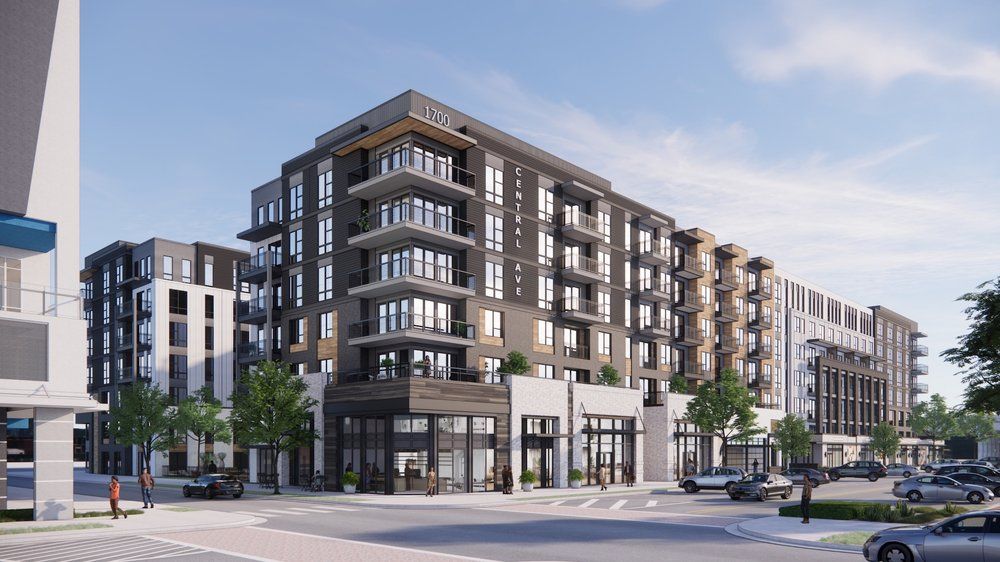 Why it matters
Sioux Falls has options for developers who want to build big either downtown or on the outskirts of town, but what the current zoning ordinances lack is an option for developers who want to create density in those areas in-between.
The planning department presented three new zoning options on Monday night during a public meeting with about a dozen people. All three new options focus on tall – at least three-story – buildings with a mix of housing, office and commercial space, and parking in the back.
The goal is to create more density and walkability in central Sioux Falls neighborhoods – some examples given include Minnesota Avenue just north of downtown, 14th Street and Cliff Avenue, East 10th Street or in the area around Augustana University, Senior Planner Jason Bieber said. And developers are already interested.
"People aren't just drawing things on a napkin," Bieber said. "There's some real serious developers out there trying to do this on Minnesota Avenue."  
Tell me more: What types of buildings could we see?
And why are we talking about this now? More here.
---
TL;DR
Super Simplified Stories
Council approves homeless outreach program. City Councilors voted unanimously on Tuesday to authorize $250,000 to create a homelessness street outreach program. You can find the background on that here.
The new city attorney is the old city attorney. City Council on Tuesday approved the appointment of David Pfeifle as the new city attorney – replacing Stacy Kooistra, who took another job. Pfeifle was also city attorney under former Mayor Mike Huether.
Wholestone Farms closes butcher shop. Remember all the drama last year about a planned slaughterhouse in northeast Sioux Falls? Well, now the butcher shop is closed, and Wholestone Farms has put plans to expand to Sioux Falls on hold.
Beers for kids (but not like that). Three local businesses – Severance Brewing Company, The Casual Campfire Supply Company, and Taverns + Tots Food Truck – are teaming up to raise money to eliminate Sioux Falls students' lunch debt. The "Settle the Debt" fundraiser will take place 4:30 to 9 p.m. Friday at Severance.
Learn more about a big road project. The city is hosting an open house from 4:30 to 6:30 p.m. on Monday, March 27 at the downtown library to provide more information on plans to reconstruct the interchange at Interstate 229 and Benson Road. Find more details on that project here.
---
THIS AND THAT
What I'm falling for this week:
Daydreaming about buying Jane Austen's house
The pantsuit game at this week's SME Women in Business Event (Congrats, award winners!!)
---
Become a member
Has Sioux Falls Simplified made you feel smarter about where you live? Consider buying into a smarter Sioux Falls by becoming a member and offering financial support to the no B.S. journalism you've been reading here.