Happy Wednesday! Megan here.
Weather check: Honestly not the worst weather for putting up Christmas lights, just saying in general and not specifically directed to my husband at all.  
🚨 Cool thing: Sioux Falls Simplified was a finalist for the LION Publishers "New Publisher of the Year" Award this week. It's a true honor, and I'm super, super grateful. Thank YOU for helping make this the little news outlet that could.
This week, I'll take you on one of the more in-depth stories I've reported thus far looking at challenges facing day cares in town. I'll also tell you why you should care about Sioux Falls' sales tax revenue and lay out what I know about the folks vying for a cannabis dispensary license.
And now, news:
COMMUNITY
Child care providers are struggling. Can lawmakers help?
Simplified: Day cares are struggling with staffing shortages and rising operational costs. And some providers are looking to state and local officials for help in finding ways to ease the burdens they're facing.
Why it matters
Day care providers are the "workforce behind the workforce," said Embe CEO Kerri Tietgen, and that's especially important as labor shortages hit many industries across the city.
Many providers are struggling financially, facing workforce shortages, rising costs and background check delays. And, on top of it all, there just aren't enough spots available for the kids who need child care.
"The perfect storm is happening, and we as a community need to start talking about that," Tietgen said.
What are some of the big challenges facing day care centers?
Get a detailed breakdown of the issues facing child care centers in the city from staffing to background check delays to rising costs.
---
CITY
Why you should care about Sioux Falls' rising sales tax revenue
Simplified: Sioux Falls is seeing the highest rate of growth in sales tax revenue since the early 90s.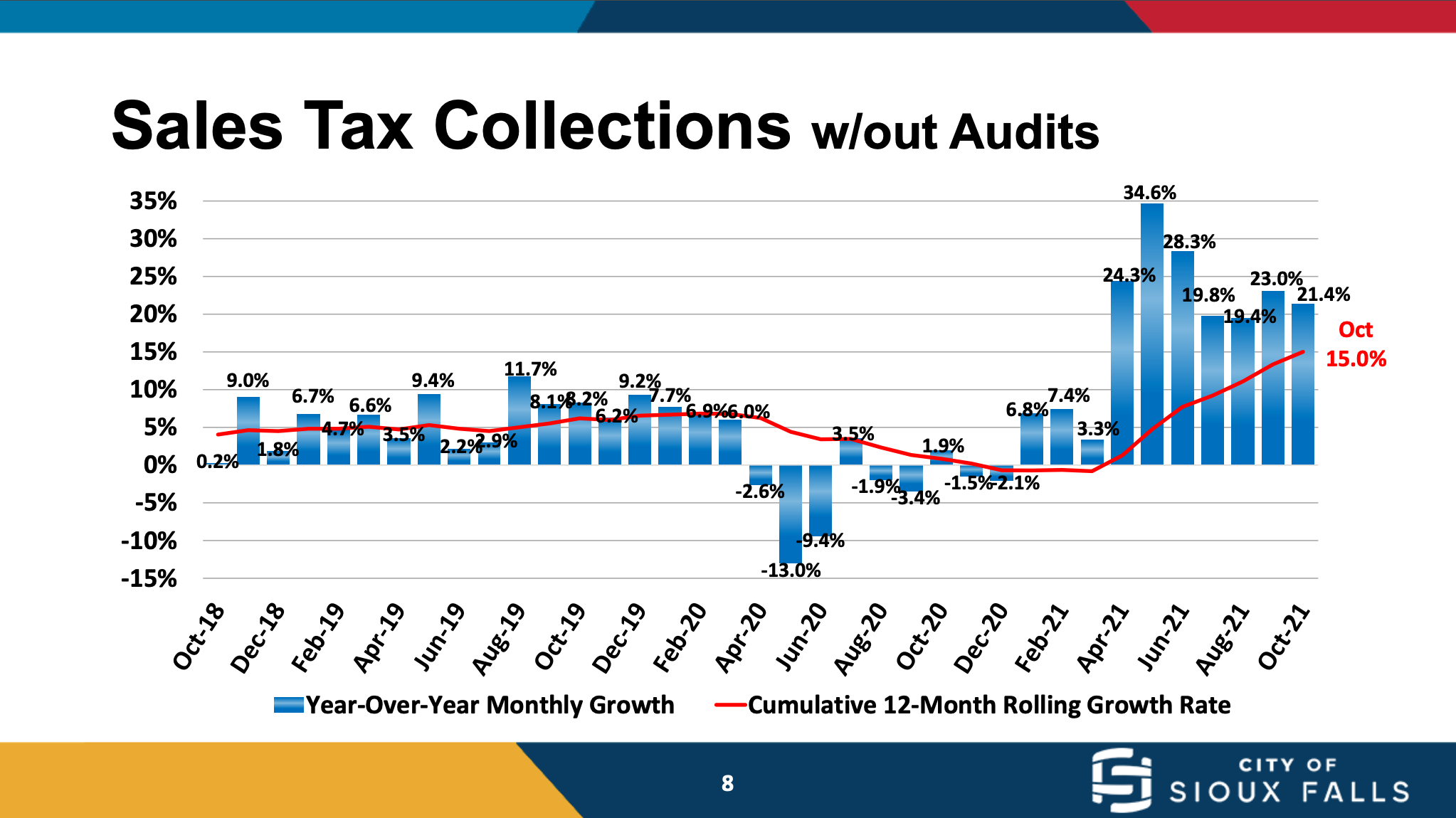 Why it matters
Sioux Falls' sales tax is up more than 20 percent from where it was in October 2019, the highest rate of growth in the city since the early 90s, City Finance Director Shawn Pritchett said.
One of the reasons for the growth is an increase in sales tax revenue from online retailers, a relatively new source of revenue for the city (also due in part to a court case South Dakota took all the way to the U.S. Supreme Court – for any legal history nerds reading.)
The latest sales tax numbers are overall good sign of recovery since the pandemic, he added, but rising costs due to inflation will offset some of those gains.
"Yes, we will have some additional revenues coming in, but we're also expecting the cost of our projects will go up as well," Pritchett said.
What else does the latest financial report show us?
---
SIMPLIFIED PRESENTS
How metro area communities are handling new marijuana laws
This is a paid piece from the Sioux Metro Growth Alliance and written by Molly Stevens.
Simplified: In 2020 South Dakota became one of 33 states to move toward legalizing or decriminalizing the use of marijuana. Here's a look at how communities in the Sioux Falls area are making decisions about regulating this new industry.
Why it matters
Under state law, a person authorized by a physician as eligible for a medical marijuana card may be in possession of up to three ounces of marijuana. Recreational marijuana remains tied up in court.
State laws give local jurisdictions latitude to decide their own licensing rules. That means decisions vary city-to-city.
Though controversial, marijuana dispensaries have the potential to draw more business investment and visitors to communities, which would bring in both sales tax and licensing revenue.
"This new industry provides both challenges and opportunities for Sioux Metro communities, and it is certain to have a big impact on both the state and our region," said Jesse Fonkert, president and CEO of the Sioux Metro Growth Alliance.
What are the different rules in different cities?
---
TL;DR
Super simplified stories
Sioux Falls lays out early legislative priorities. With the 2022 South Dakota Legislative session coming up in January, the Sioux Falls City Council is starting to look at priorities for legislation the state's largest city will support. Here's a look at what was discussed during an informational meeting Tuesday.
Former Sanford CEO got eight-figure payout. SiouxFalls.Business reports Sanford paid $65 million in severance and other payments to top execs in one year, including $49 million for former CEO Kelby Krabbenhoft. More here.
City prepares for Phillips Avenue reconstruction. Sioux Falls is redoing Phillips Avenue from Eighth Street to Tenth Street next year, and ahead of the project, city engineering staff will be available to answer the public's questions. A public meeting will be held 6:30 p.m. to 8 p.m. Thursday at the downtown library.
---
CITY
Most applicants in cannabis lottery are from brand new S.D. businesses
Simplified: Sioux Falls has 79 applications from 21 different companies submitted for five available cannabis dispensary licenses. Of those companies, more than half filed business paperwork with the state within the last month.
Why it matters
Cannabis became a new industry to the state when voters legalized medical marijuana in the 2020 election. A voter-approved measure to legalize recreational marijuana remains tied up in court.
City Councilors decided in September to limit the number of marijuana dispensaries in the city to five. Councilors also approved a $25,000 application fee and a $25,000 annual license renewal fee.
Applications for the dispensary lottery opened at the end of October, and of the 21 unique limited-liability companies (LLCs), 13 were LLCs initially filed with the state in the last month.
It's worth noting that LLCs were allowed to submit multiple applications as long as each application was for a different location (i.e. a different legal description of property), according to Licensing Specialist Jamie Palmer.
Who's in the lottery?
See a full list of the 21 companies behind the 79 different applications.
---
SIMPLIFIED PRESENTS
Midco wins regional award for customer satisfaction
This is a paid piece from Midco.
Simplified: Midco received a J.D. Power award naming them best customer satisfaction for residential internet service in the West region.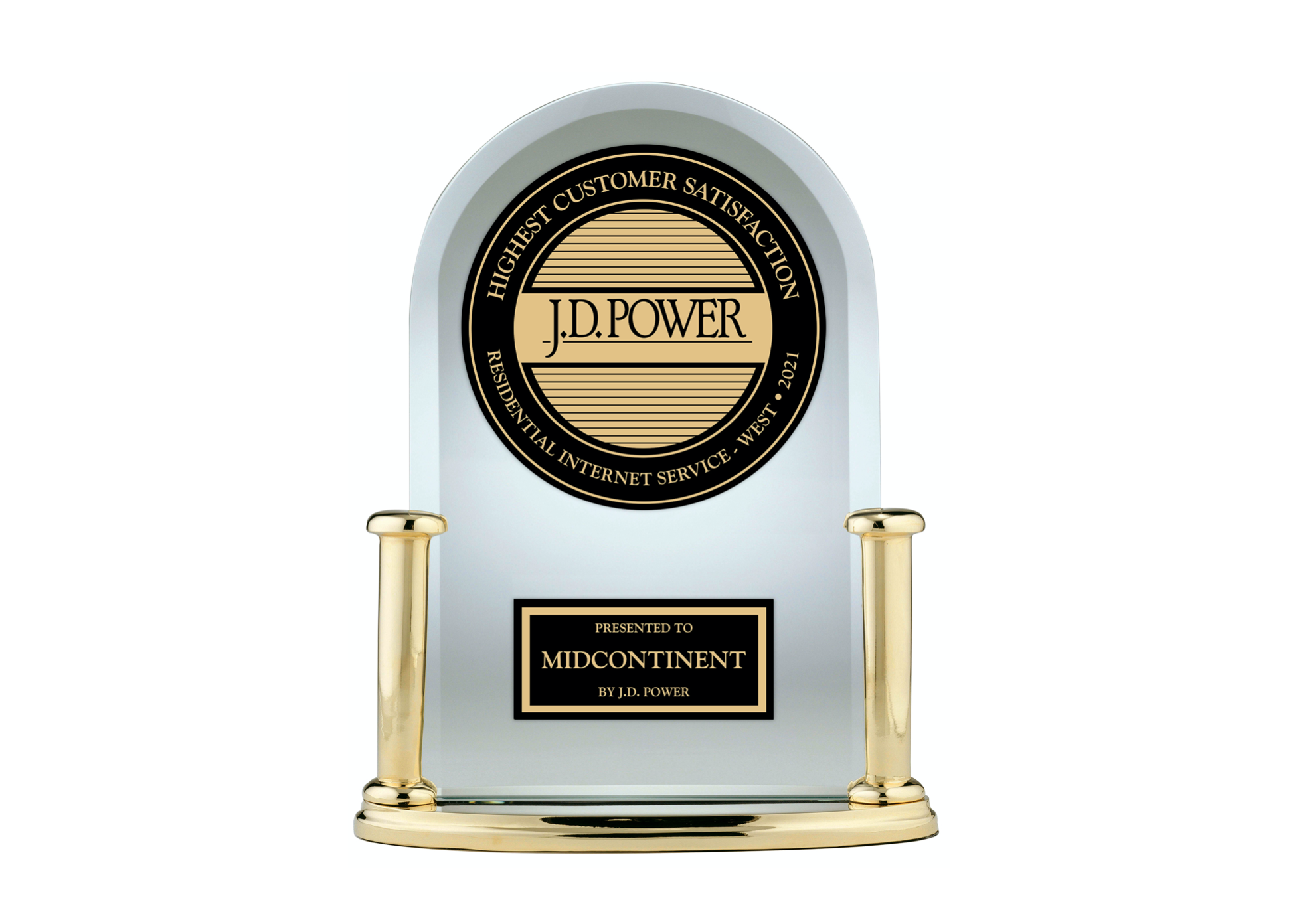 Why it matters
The J.D. Power Awards are given only to the highest-performing companies, according to the consumer insights company.
This is the first year Midco has been eligible for a J.D. Power award, and the company was awarded as the top in Customer Satisfaction for Residential Internet Service in the West Region.
The award recognizes the consistency and dedication to customer experience Midco has been working toward for years, said Cory Limberg, vice president of customer experience.
"Midco is an extremely humble company," he said. "This is a great opportunity for team members to take a step back and be recognized, not only for the great work they're doing right now, but what they've been doing."
Get the specifics on the award and learn more on what sets Midco apart as an internet service provider.
---
THIS AND THAT
Stuff to do:
Walk in a winter wonderland. Falls Park's annual Christmas lights display kicks off Friday, Nov. 19 and runs 5 p.m. to midnight until Jan. 9.
Get funky. It's the one year anniversary for The Hello Hi and Pizza Cheeks, and the downtown businesses are celebrating with a "funky disco dance party" Saturday night. More details here.
Think about "what if." The Old Courthouse Museum has a new exhibit on city planning looking specifically at Sioux Falls projects that were built and no longer exist, are still around today or were never fully realized. Opening reception runs from 5 p.m. to 7 p.m. Thursday.
Plant some winter plants. Oakridge Nursery and Landscaping is hosting plant seminars all weekend where you can create a winter porch pot. Spaces are limited, and you can find more details here.
---
What I'm falling for this week
---
Become a member
Has Sioux Falls Simplified made you feel smarter about where you live? Consider buying in to a smarter Sioux Falls by becoming a member and offering financial support to the no B.S. journalism you've been reading here.