Simplified: The Butterfly House and Aquarium is recognizing its 20th anniversary this week with lots of fun family events. Take a look and learn what's next as the nonprofit merges with the Great Plains Zoo in 2023.
Why it matters
The Butterfly House opened in 2002 with a butterfly conservatory and 45,000 annual visitors. Since then, it's grown to add an aquarium and doubled to 90,000 visitors each year.
Earlier this year, the Butterfly House announced a merger with the Great Plains Zoo to form the Sioux Falls Zoo & Aquarium, which means in the coming years the butterfly house will move over to the zoo campus.
That merger will bring an expanded butterfly exhibit, a bigger aquarium and the ability to do more conservation efforts, zoo CEO Becky DeWitz told the City Council back in October.
"The 20th anniversary of the Butterfly House & Aquarium is an incredible milestone for our nonprofit organization," CEO Audrey Otto-Pepper said. "We are grateful for our generous community who has made this celebration possible, supporting the unique experience of tropical butterflies and marine life in South Dakota through the years."
Tell me more about the celebration
There are all-day games today through Friday, including:
Shake-a-day dice roll
"Remember when..." 2002 trivia
Elf on the Shelf hide and seek
I Spy a Butterfly,
and a "color outside the lines" coloring station.
Families can also pay 2002 admission rates from 10 a.m. to noon on Friday.
Operating hours are 10 a.m. to 4 p.m. Find a full list of events here: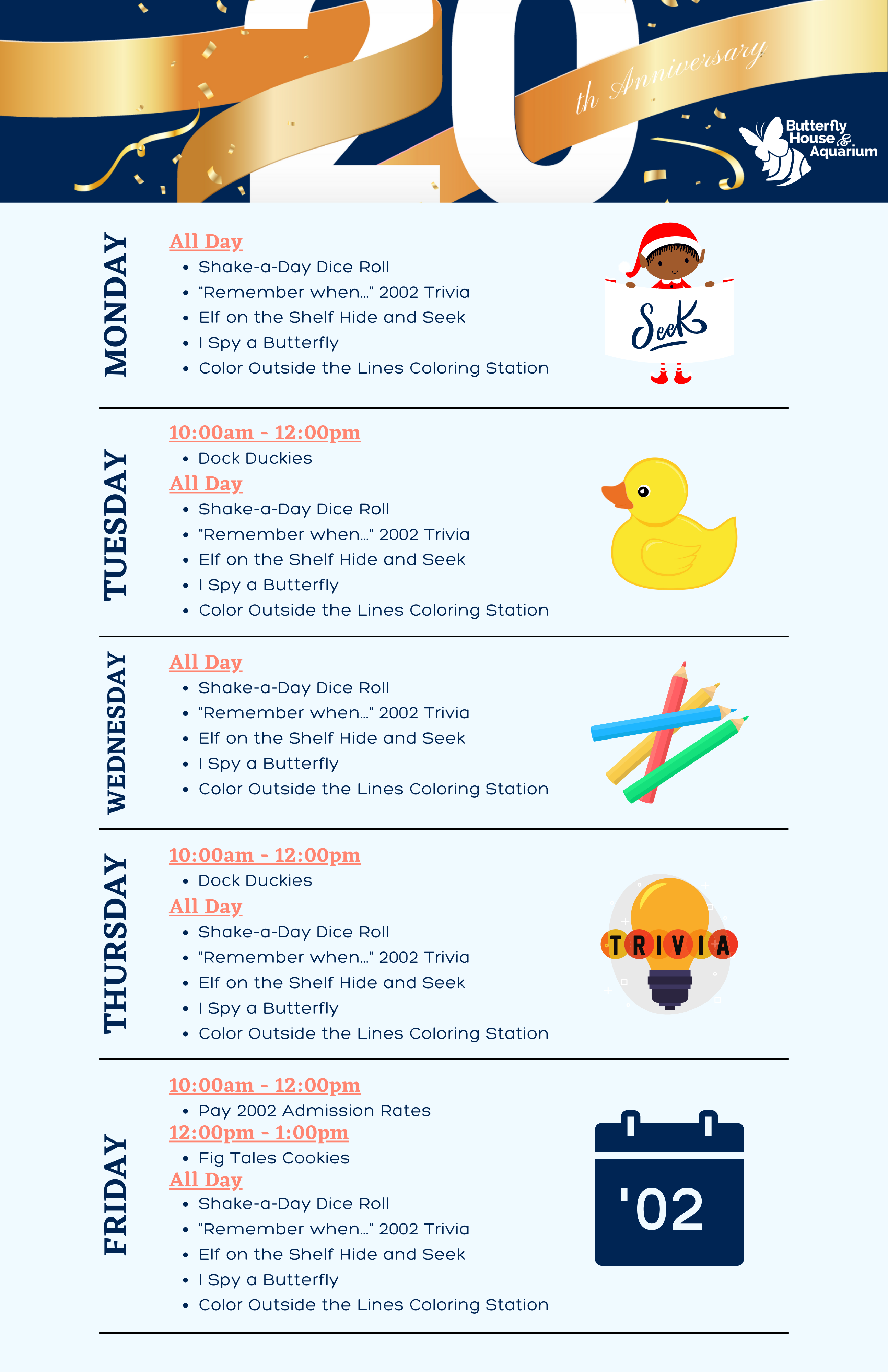 What happens next?
The zoo and butterfly house merger is effective Jan. 1. The plan is to have both nonprofits on the zoo campus by 2025.
Learn more about the future plans here.