Happy Wednesday! Megan here.
Happy summer break, children of Sioux Falls! You'll want to break out the sunscreen – It's heating up this weekend.
This week, we'll see how the Sioux Falls Regional Airport is faring for the summer, what a bond election means for Harrisburg and how to celebrate Pride Month in Sioux Falls.
Oh! And if you know someone who needs a break from the news cycle but still wants an easy way to feel smart about Sioux Falls, share this newsletter with a friend.
And now, news:
EDUCATION
Harrisburg bond passes with 83 percent approval
Simplified: Harrisburg just overcame a major hurdle in its work to keep up with a fast-growing student population when voters on Tuesday approved a $60 million bond for two new schools.
Why it matters: Voters approved the bond by an 83 percent margin, showing strong support for the district's plan to accommodate growth, board members said Tuesday night.
Harrisburg's enrollment has more than quintupled in the last 20 years, and projections show another 3,000 students could join the district by 2030.
Those kids need somewhere to go, but so do the kids already in Harrisburg elementary and middle schools. Even without new students, the high school will be at capacity in the coming years.
The bond will fund construction of two new buildings: a third middle school, and a freshman academy that will eventually become a second high school.
"We needed this bond to pass, and once again the voters, our community, agreed overwhelmingly," said board member Mike Knudson.
What happens next?
Design starts this summer, with construction set to begin in September, Superintendent Tim Graf told Sioux Falls Simplified last month. Both buildings are expected to be completed in time for the 2023-24 academic year.
"Growth has become part of the culture in Harrisburg District in all aspects of the word," board member Terra Vennard said, "and it's exciting to continue to move those plans forward with the passing of the bond issue."
---
COMMUNITY
What more flyers means for the Sioux Falls airport
Simplified: More than a year since the start of the pandemic, Sioux Falls Regional Airport traffic is inching closer to normal rates for the summer, and as normalcy resumes, a planned parking ramp project is also back on track.
Why it matters: Last summer, the airport took a hit when it saw people travel at about half the normal rate, Executive Director Dan Letellier said.
It wasn't just Sioux Falls. Nationally, airline travel was down 62 percent in 2020 compared to 2019, according to the Bureau of Transportation Statistics.
This year, the Sioux Falls airport's goal is to hit between 70 and 75 percent of the airport traffic seen in 2019. As of the end of May, they'd hit that 70 percent mark year-to-date, Letellier said.
That means the airport is back to planning improvements including a new $35 million parking ramp, which was delayed a year and now set to be constructed in 2023.
Learn more about future changes, business travel and what to expect if you're on a flight this summer.
---
SIMPLIFIED PRESENTS
How The Breaks is creating community with an empty parking space
This is a paid piece from The Breaks Coffee Roasting Co.
Simplified: The Breaks is testing out a new parklet concept in front of their East 12th Street coffee shop this summer, with the goal of creating a space for community and neighborhood connection.
Why it matters: Parklets are a way of repurposing often-unused street parking to create a little mini-park with seating, shade and even some green space.
They're found in many cities, from Chicago to San Francisco to Minneapolis to Des Moines.
The Breaks' location is right on the edge of downtown and close to other commonly used spots like the post office, grocery store and the multi-use trails. The parklet would give pedestrians another reason to walk through the neighborhood.
The Breaks' parklet is part of a pilot project with the city through the summer. It was approved unanimously by City Council on May 18.
"Having the parklet space will better connect us to the neighborhood," said Mary Campbell, who co-owns The Breaks with her husband, Corey Gerlach.
Learn more about what people are saying, what a parklet is and what happens next.
---
Stuff to watch:
Tax-increment financing. Two TIF districts – one for the new Steel District and another for a Cherapa Place expansion – will take their first step toward approval at the Planning Commission meeting Wednesday.
Liquor licenses. Councilors set a hearing date for Tuesday, June 15 for the transfer of the liquor license owned by Village River Group, LLC. The license was originally intended to be used in the 10th Street Village on the River development before the project fell through in May 2019.
The Link. Sioux Falls' new sobering center and mental health resource facility opened Tuesday downtown.
School attendance. Sioux Falls school board members are expected to get an update on school attendance – as well as district priorities – Wednesday afternoon.
---
SIMPLIFIED PRESENTS
Meet Sioux Falls' new collegiate baseball team
This is a paid piece from the Sioux Falls Sunfish
Simplified: Sioux Falls baseball fans have another option to catch live games this summer with a new collegiate team, the Sunfish.
Tell me more: The Sunfish is a new summer collegiate baseball team and part of the Expedition League, which includes a dozen teams from the Dakotas, Montana, Idaho, Nebraska, Wyoming and Canada.
Why it matters: The Sunfish is made up of 32 players from across the country, including four players from Augustana with local ties to Sioux Falls.
The team also has seven interns and three coaches, including Head Coach Walker Bullington.
The Sunfish will play more than 30 home games at Karras Park on Augustana University's campus this summer. The goal is to provide not only an outlet for college ball players in the summer months, but it's also to give Sioux Falls-area residents another option for entertainment.
"We are all about fun," General Manager Nick Moen said. "We want these games to be an option for people in Sioux Falls to relax, enjoy the summer weather and take in America's favorite pastime."
Learn more about the home opener, the beer garden and how to get tickets.
---
COMMUNITY
How to celebrate Pride Month in Sioux Falls
Simplified: It is Lesbian, Gay, Bisexual, Transgender and Queer Pride Month, as officially declared by the White House. But you don't have to go to D.C. to celebrate. Here's a look at local LGBTQ pride events from Sioux Falls Pride.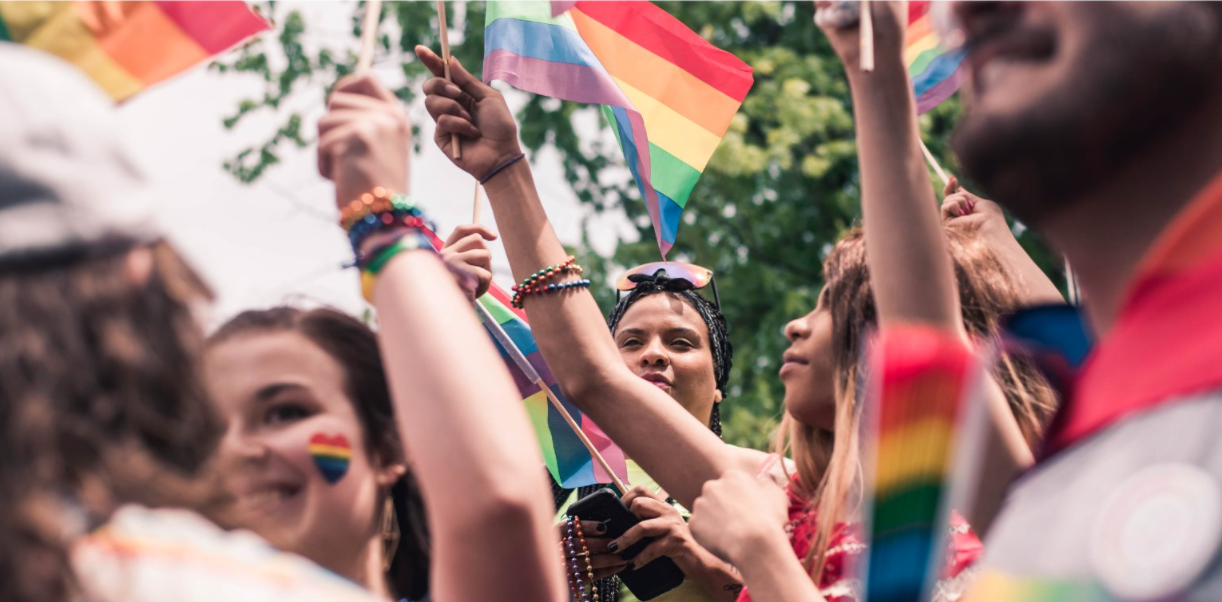 Why it matters: Pride Month is recognized nationally and is traditionally held in June to commemorate the 1969 Stonewall riots in New York.
Sioux Falls Pride – a local nonprofit dedicated to broadening acceptance for the LGBTQ community – is working with several local businesses for events throughout the month, including a parade downtown on June 26.
Area businesses are also hosting Pride Month events in addition to those sponsored by the nonprofit, including speed dating at The Source, a special Pride drink at The Breaks and Pride Night at Escape 605 downtown.
"We are always looking to expand into new spaces and to see businesses reaching out to us about hosting events means that progress is being made," said Rachel Polan, marketing director for Sioux Falls Pride.
Learn more about events coming up this month in and around Sioux Falls.
---
THIS AND THAT
What I'm falling for this week:
---
Reach out
What story do you want to see simplified? Falling for something local? Send any news tips, attaboys, missed typos or bouquets of peonies to megan@sfsimplified.com.
---
Thank you
Thank you to Sioux Falls Simplified sponsors, including The Breaks Coffee Roasting Co., Sioux Metro Growth Alliance, Selah Space, Silverstar Car Wash and the Sioux Falls Sunfish. When you support them, you're also supporting Sioux Falls Simplified.
---
Become a member
Has Sioux Falls Simplified made you feel smarter about where you live? Consider buying in to a smarter Sioux Falls by becoming a member and offering financial support to the no B.S. journalism you've been reading here.